KID is proud to partner with the Healthy Children Conference + Expo! Produced by the American Academy of Pediatrics (AAP), this one-of-a-kind event combines an in-depth education conference AND an interactive expo floor to get you up close and personal with the experts!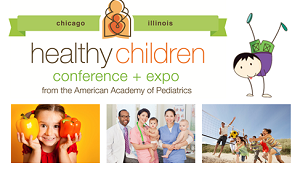 Saturday, March 8:  10am – 6pm  ▪  Sunday, March 9:  10am – 4pm
Donald E. Stephens Convention Center in Rosemont, IL
$10 at the door  ▪  $8 in advance  ▪  Children are free
 The Healthy Children Conference + Expo is divided into four distinct show floor areas:
Healthy Living – content related to nutrition, fitness, oral health and emotional wellness
Safety & Prevention – content related to immunization and all safety-related issues
Family Life – content related to health management, family dynamics and parenting
Health Issues – content related to conditions facing parents and caregivers
 Leading sessions that might interest you:
Bullying: Prevention and Intervention (March 8 at 10:15 – 11:00 AM)
Vaccines: Everything You Want to Know but Are Afraid to Ask (March 8 at 11:30 AM – 12:15 PM)
My Teen is Driving! How to Keep Him Safe Behind the Wheel (March 8 at 5:00 – 5:45 PM)
Home Safe Home: Safety Hazards That May Surprise You (March 9 at 12:15 – 1:15 PM)
Concussions in Sports: What's All the Fuss About? (March 9 at 2:15 – 3:00 PM)
Protecting Your Children from Tobacco and Secondhand Smoke: What Every Parent Should Know (March 9 at 2:15 – 3:00 PM)
Safe to Sleep: Reducing the Risk of SIDS (March 8 at 1:30 – 2:30 PM)
 PLUS … don't miss a Safety & Prevention Connection Corner appearance from KID Program Director, Laura Nikolovska and SIDS- IL Executive Director Nancy Maruyama on March 8 at 11:15 – 11:45 AM
 Your admission gains you direct access to:
Robust speaker line-up of nationally-respected pediatricians and specialists
One-on-one opportunities to meet and ask questions with the experts
Interactive product demonstrations from trusted manufacturers and service providers
Dynamic expo floor featuring children's hospitals, parks, retailers, manufacturers, service providers, camps and more
Product giveaways and raffles
Targeted programming for youth
Live, family-friendly cooking lessons
Family entertainment
Active play zone for children
Sessions in English and Spanish
Safety and childcare track for parents and childcare providers
 Visit www.healthychildren.org/expo for the complete program line-up and to register!