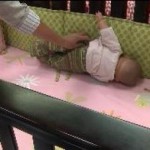 This week a statewide ban on crib bumper pads will head to the Illinois Senate floor. HB 5348, the Illinois crib bumper pad ban, would ban the sale of crib bumpers. The effective date is January 2016, giving manufacturers and retailers plenty of time to comply.
Still manufacturers are dragging their feet. The Juvenile Product Manufacturers Association (JMPA) argues that current ASTM standards are enough to protect children from the hazards associated with traditional crib bumper pads. However, the American Academy of Pediatrics (AAP) refused to acknowledge the ASTM standards or any other standard that left bumpers in cribs, as they have deemed crib bumper pads inherently dangerous.
With at least 48 cases of infant death caused by crib bumpers and no proof that bumpers reduce the risk of serious injury, it's hard to fault the AAP's logic. The fact is crib bumper pads are unnecessary and unnecessarily dangerous. They pose a serious risk of suffocation, strangulation, and fall hazards that should not be tolerated in an infant's crib.
The deadline for bills to get out of the Senate is next week – we need you to take action now.  KID urges you to reach out to your senator and ask them to support safer cribs and healthier kids. You can find contact information on this nifty site. Then let KID know where your senator stands on HB 5348.
Let's all do our part to protect our children. Get bumpers out of cribs.