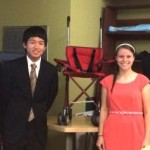 According to CPSC, 25,500 children under age 5 are rushed to emergency rooms each year for injuries from high chairs or strollers.  Many of the injuries come from falls, but they are also caused by design flaws that lead to entrapments or lacerations and finger tip amputations.  There have been 14 stroller recalls and 5 high chair recalls since June 2012, involving thousands of units, hundreds of injuries and deaths. 
CPSC, under Section 104 of the Consumer Product Safety Improvement Act of 2008, also called Danny's Law, is developing standards for these products among others that will be required for all products sold in the US.  The stroller standard passed in March and will be effective in September 2015 and the high chair standard is still being drafted.
CPSC works with ASTM International in the development of the mandatory standards.  They start with the voluntary industry standard published through ASTM and work with the committee to strengthen it in areas that injury data shows needs to be stronger.  The High Chair subcommittee meets this week to continue that work and KID will be at the table representing consumers. 
KID also works with engineering students, not only to find solutions to design problems that cause injury, but to educate tomorrow's designers to integrate safety into their designs – no matter the product.  This week, seven teams at Northwestern University presented projects on high chair and stroller designs.  Solutions ranged from hinge covers and better harnesses to integrated features to help encourage parents and caregivers to safely use the product.  This is all part of KID's TEST program to integrate design safety into the undergraduate engineering experience.  You can learn more about the program here.