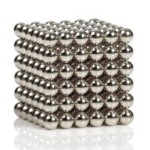 For the past two years, there has been discussion of the dangers of high-powered magnets sold as part of magnet sets such as Buckyballs. Today, September 24, 2014, the U.S. Consumer Product Safety Commission (CPSC) voted 4-0 to ban the sale of these dangerous magnets.
These magnets are small balls or cubes that connect to each other, forming different shapes through a strong magnetic bond. When these high-powered magnets are separated they are often swallowed because younger kids view them as candy and older kids use them as faux facial piercings. CPSC recognizes that this product caused the death of one child last year and has sent at least 2,900 children to the emergency room in need of treatment from January 1, 2009 to December 31, 2013.
Anyone that has swallowed one or more of these magnets is in danger of serious injuries such as small holes in the stomach and intestines, intestinal blockage, blood poisoning, or death. Often, parents do not realize that their child has swallowed one of these magnets, especially considering the early symptoms of magnet ingestion are difficult to recognize and diagnose.
"Magnets pose a special hazard to children. Not only is it difficult to know if a child has swallowed magnets, most caregivers have no awareness of the extent of the possible damage and might not know to immediately seek medical attention," Nancy Cowles, Executive Director of Kids in Danger said. "That's why this step by CPSC today is so important."
At the hearing this morning, the Chairman read from an email from the aunt of Annaka Chaffin who died after ingesting several magnets.  In relaying the events leading up to her niece's death, she said, "warnings on packaging aren't enough.  My sister never even saw the box."
With the new rule, the types of magnet sets permitted will be altered significantly in order to ensure the safety of children. Any magnet set sold that contains magnets that fit in the small parts safety test fixture, used to decipher if a product could fit in a child's mouth, will be required to have a flux index of 50kG2 mm2 or less.
Many consumer and doctor groups support CPSC's new rule regarding the magnets. The Consumer Federation of America, the North American Society for Pediatric Gastroenterology, Hepatology, and Nutrition (NASPGHAN), Kids in Danger Consumers Union, American Academy of Pediatricians (AAP), and U.S. Public Interest Research Groups (PIRG), all released a statement of support towards CPSC's decision.
Those that already own one of these magnet sets are entitled to a refund upon returning the product with all of the individual magnets included. In order to receive a refund go to www.buckyballsrecall.com or www.magnicube.com depending on which product. Find more information on the dangers of magnets at CPSC's Magnet Center.