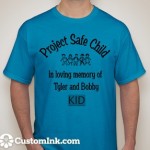 This annual event is a great example of how two families, the Witte's and Cirigliano's, have taken a tragedy and turned it into something that generates awareness about child product safety and much needed funds for the KID organization.  Keep reading for more information about the event and how you can get involved with this and future KID events.
What : Annual Project Safe Child Fundraiser  & Walkathon 
When :  Sunday, October 12
Where: Wantagh, New York
Who: Tyler and Bobby's families started this event to honor their sons who were killed in dangerous drop-side cribs. You can support Team Tyler or Team Bobby or start your own to participate and raise funds.
Why: This event provides you with a meaningful opportunity to support families who have lost children to unsafe products, enjoy a beautiful fall day and raise vital funds to keep children safe. 
How you can get involved:  You don't have to join a team to raise money for the walk-a-thon. Here is a flyer for the event and a pledge form to help you get started. Or, consider purchasing brand new Project Safe Child T-shirts at this year's event.  All proceeds benefit KID. Email Michelle to order and you can pick it up at the event.  If you want one and won't be at the event, just let us know.  
Read more about the event here. Stay tuned next week when we will follow up with a recap of the walkathon and share upcoming opportunities to get involved with KID's lifesaving work.