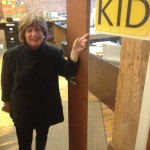 Martin Luther King Jr. Day has become a symbol of giving back and making a difference. The day offers a great opportunity to give back to your community. KID has a variety of options for involvement; you play an important role in keeping kids safe. Here are some ideas to get you started:
Share KID's lifesaving message with friends and family.  Use your own social media accounts to urge them to follow KID on Facebook or Twitter , to use our mobile site to check recalls on the go, and sign up for our email alert so they can get safety information delivered right to their inbox each month.
Learn who represents you in your state legislature and Congress. Send an email or letter and urge them to make children's product safety a priority. Lend your voice – start at KID's advocacy page and sign up for the KID Action Team.
Help us plan the party of the year! Each year, KID holds our annual gala event, The Best Friend Award Night.  We are always looking for volunteers that want to get on board and help make this event our best yet! The funds raised keep KID going strong throughout the year.
Gain valuable Board experience by joining our recently established Young Professionals Board. It's a great way to get involved with other young professionals to make a difference in the lives of children everywhere. Check out our informational flyer for more details.
You can also check out our volunteer page and reviews page or email Carson for more information.  Don't forget to share your actions on social media!