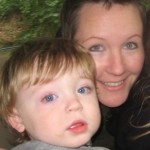 This week we have a guest blog post from Lisa Siefert of Shane's Foundation, a non profit dedicated to children's safety focusing on furniture tip over education and prevention.
"Love you," I said to my baby boy. "Love you," Shane said from his bed as I closed the door to his bedroom for his afternoon nap. Later, I went to wake my baby from his nap as my husband came in from yard work. My husband heard a sound that was unrecognizable—my screams.  My baby's dresser had fallen on him.  Shane was two years old when he died.
It was an accident, but it was preventable. In fact, preventable accidents are the number one cause of death in children which includes furniture, appliance and TV tip-overs. According to the Consumer Product Safety Commission, one child dies every two weeks when one of those items falls. If had we known the safety hazards associated with the dresser, our story would be a lot different.
Shane's accident is classified as a tip-over, and it is a preventable accident. But if it is preventable, why does it happen? Unfortunately, tip-over safety is often overlooked. The CPSC states that tip-overs are "one of the most dangerous hidden hazards in the home."
Safe Kids Worldwide notes that a child is treated in the emergency room every 45 minutes. That is why I encourage you to not take this lightly.When baby-proofing your home, there are certain safety products that come to mind: doorknob covers, plug covers, cabinet locks… what prevents a tip-over? Safety straps and anti-tip devices.  If the furniture includes safety straps, use them. If your furniture, TVs, and appliances are not currently secured, I encourage you to anchor them. This is a simple measure that can be taken to remove the risk of a tip-over incident. Securing your furniture with safety straps requires only a few dollars and is not difficult. When a safety device is included with your furniture, please take a moment to follow the manufacturers guidelines to install it. You may find furniture straps online or at large baby retailers.
In addition to securing the furniture and televisions in your own home, it is important to also be mindful of where your child spends time. This includes grandparents' homes, day care centers, or even your gym's nursery. In addition, be sure to not overlook short furniture; it is just as dangerous as larger pieces.  The changing table/dresser that took Shane's life was only 35-inches tall.
To help prevent tip-over tragedies, the Consumer Product Safety Commission recommends the following safety measures:
Anchor furniture to the wall or the floor
Place TVs on sturdy, low bases, or anchor the furniture and the TV on top the base, and push the TV as far back on the furniture as possible
Keep remote controls, toys, and other items that might attract children off of TV stands or furniture
Keep TVs and/or cable cords out of reach of children
Make sure freestanding kitchen ranges and stoves are installed with anti-tip brackets.
Supervise children in rooms where these safety tips have not been followed
 For more furniture safety tips or to donate toward providing educational tools to help prevent tip-accidents, please visit www.ShanesFoundation.org.