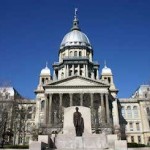 On March 24th KID and 25 other health and safety organizations headed down to Springfield, IL in order to support Representative McAsey's crib bumper pad ban (HB3671). With the support of these like-minded safety organizations, KID helped successfully push HB3761 (McAsey) out of the Illinois House Consumer Protection Committee by a vote of 10-6.
HB3761 (McAsey) should not be confused with Representative Mayfield's bumper bill (HB2653). Although both bills passed out of the Consumer Protection Committee and both purport to be crib bumper pad bans, HB2653 (Mayfield) would create a situation where makers of bumper pads police themselves on a standard that most safety and health advocates argue can't protect children. On the other hand, HB3671 (McAsey) would ban all dangerous bumper pads from sale in Illinois.
If HB3761 (McAsey) passes, then Illinois will become the second state to ban the sale of crib bumper pads. Maryland banned the sale of crib bumper pads two summers ago and Chicago already bans the sale of crib bumper pads within the city limits. However if HB2653 (Mayfield) passes, then it will set a dangerous example for other states and confuse the safe sleep message here in Illinois.
If you support a bill that aims to protect infants by removing an unnecessary and dangerous product from their cribs while highlighting the importance of a safe sleep message, then let your representative know that you support HB3671 (McAsey) and oppose HB2653 (Mayfield). You can call or visit their district office while they are on break from Springfield until April 14, 2015. 
If you would like updates on legislative issues like this please sign up to be a part of the KID Action Team.