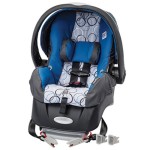 On July 29, NBC 5 Chicago aired a report about a mom from Indiana that received an expired car seat as a gift from her parents. KID was contacted to provide information about car seat safety for the segment. During the interview, we mentioned the fact that car seats expire, in part, because of exposure to extreme temperatures; extreme heat in the summer, extreme cold in the winter.  However, since that time, we have learned that statement to be false. Car seats do not expire for this reason but rather because of changes in technology.  
It's helpful to think of car seats as you may technology devices; they are changing all the time and a product (for example, a computer, cell phone, or TV) that you purchase today may seem "old" or out dated within just a few years even if there isn't anything functionally wrong with the product. Car seats are similar in that their technology is constantly changing. As a result, companies put a "manufactured date" and "expiration date" on every seat so parents know when the seat was made and when the seat expires. The thought is that by this expiration date, new technology will have been developed that surpasses the safety of the current seat. There is no industry standard expiration date, but the average for most car seats is 6 years. Also, remember that a car seat that has been in a crash should be replaced.  And if you see any expired car seats in stores, like the young mom in the story, report them here. 
With that said, it's important to use the right seat for your child. A good mantra for car seat safety is "rear facing until 2 or until they reach the maximum height and weight for their seat" (source: American Academy of Pediatrics recommendation on car seats). Parents and caregivers should note that second part of the recommendation as a child's age doesn't necessarily determine their height and weight so to note the height, weight limit of a car seat. With each state varying on its car seat safety rules, it's a recommendation that really falls on the parents to follow. 
We hope this clears up any confusion that might have ensued as a result of this segment. As always, KID is committed to giving parents and caregivers a voice in safety, and also, providing them clear and accurate safety information.
And if you see any expired car seats in stores, like the young mom in the story, report them here .