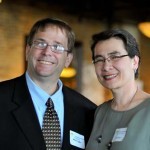 This week KID lost a best friend. Mitch Lipka died after a courageous fight against cancer. Mitch was an award winning consumer reporter. Soon after Danny died in a dangerous portable crib in 1998, Mitch began to investigate the children's product safety system that would allow such a deadly product to not only stay in homes and child care facilities, but also enter the market in the first place. The result was series of articles in the Sun-Sentinel newspapers. KID still gives reprints of those articles out to anyone who wants an overview of the problems in product safety.
A lot has changed since Mitch wrote those articles, but he continued to cover product safety issues throughout his career as a consumer reporter. In 2011 KID was honored to present him with our KID Best Friend Award for his work in alerting parents and stakeholders to the dangers of some children's products.
Our thoughts are with Mitch's wife, children, family, and friends. We are so proud to have known him and know his work has been instrumental in strengthening children's product safety and saving lives.