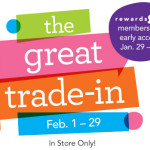 At KID we often talk about the dangers associated with used children's products, especially those that are worn out, damaged, or which fall short of the newest, strongest safety standards. Recalled products often stay in use long after the recall announcement.  For these reasons, we encourage families to take stock of the items their children use and purchase products that meet the newest safety standards. However, we understand that this can sometimes be difficult to do.
That is why we are so excited that Toys"R"Us is once again offering its Great Trade In event this year throughout the month of February. Through this program, parents and caregivers can bring in any used cribs, car seats, bassinets, strollers, high chairs, infant swings, bouncers, travel systems, walkers, entertainers, play yards and toddler/twin beds in exchange for 25% off a new item in any of those categories, ( or a 30% discount when using your "R" Us credit card). Products can be returned to any Toys"R" s or Babies R"Us location. So far, the program has removed over 1.1 million potentially unsafe products from the marketplace.
KID strongly supports efforts by retailers to protect their customers from recalled or other potentially unsafe products. Thanks to this program, replacing recalled items or those that do not meet federal safety standards is easier for parents across the country. If you want to learn more about potential safety hazards with your current children's items, check out KID's Product Hazards pages.
The Great Trade In only happens once a year, so take advantage of this opportunity to safely dispose of children's products. Share the event with friends online using the #BRUGreatTradeIn hashtag.