KID works to strengthen, or in some cases establish, strong safety standards for children's products. We helped pass Danny's Law in 2008. As a result, cribs, play yards, and bassinets all have strong safety standards and undergo independent testing prior to entering the market. While we are passionate about the safety of all children's products we pay special attention to those intended for sleeping babies because:
Our founder's son Danny died in a sleep product. KID's work is his legacy.
Babies are not closely supervised in these products – hopefully parent(s) are getting their own rest or able to focus on other things. So they need strong standards to keep little ones safe.
However, products that are not covered by safety standards are constantly entering the markets. As a result, we are left with products that can be put on the market with little or no safety testing; leaving our most vulnerable consumers to find the flaws.  Here are just a few we've seen lately – use the comments to show us others you've seen.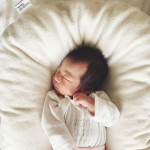 Product #1: Snuggle Me Premium Lounging & Bed Sharing Cushions for Baby
This cushion is designed to be used in the bed with parents(s) and outside the bed for a variety of activities including: playing, napping, tummy time, massage, bathing, and traveling with babies up to 6 months. We have three main concerns with this product:
This product doesn't adhere to any safety standards other than their own track record. The website claims to have a "9 year track record of amazing safety performance." While this is great, it doesn't and shouldn't replace a strong safety standard and adequate testing.
Like most other sleep positioners, the manufacturer advises parents to always keep baby "well attended" when the product is in use. However, if this is a product that is used for parents to sleep with baby, constant supervision is impossible.
Lastly, the website advises parents to give the baby a blanket to sleep with in the product. For multiple safety reasons, including suffocation and overheating, babies under 1 year should not sleep with a blanket.
A similar- looking product is the DockATot, another product we are hearing about. The product is designed for children aged 0- 36 months as a multi- functional cushion. While the company advises caregivers to not use the product in a crib or basinet, it is very likely that they will, especially because it is designed as a transition piece for baby. The sides are breathable, but if used in a crib or basinet (or around other non-breathable surfaces) the baby could get caught in the gap between the DockATot and other surfaces. In this way the product very much reminds us of the NapNanny.
Health Canada, the Canadian Public Health Agency, also warns against baby nest products, meaning any product with "small, portable bed for an infant that has soft, padded sides."
KID's verdict? Keep baby in a crib, play yard or bassinet that meets the federal safety standard and keep the crib bare. Sharing the room, but not the bed, is a great way to sleep closely but safely.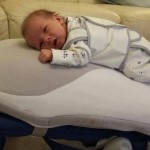 Product #2:  Babo Cush New Born Comfort Cushion
This product was made in Australia by a mother that envisioned having more time to attend to herself and her family while having a newborn at home. The Comfort Cushion was designed to mimic being held over the shoulder, against the chest position and is complete with vibrations (to mimic heartbeat and womb sounds) and a slight rocking motion design to calm baby. Here are some concerns we have with this product:
While this is not described as a sleeping device, it is inevitable that babies will fall asleep on this product. However, in the safety reports on the product, it is advised that babies not sleep on the Babo Cush. This leaves parents and caregivers in the awkward position of waking a sleeping baby or leaving baby to sleep on an item not recommended for sleeping.
Babies are placed on their tummies when using the product, mainly in an effort to combat flat head syndrome. Tummy time is a great way to prevent flat head, but should be done on a firm, flat surface. This combined with the likelihood that a baby will fall asleep in this product and be sleeping on their tummies instead of their back as recommended by the American Academy of Pediatrics guide to Safe Sleep, leaves us concerned about using this product with babies.
KID's verdict? Skip this product because the foreseeable use of using this product for infant sleep would be all too possible. Invest in an infant swing for play time instead that meets federal safety standards. But don't leave a sleeping baby in it — move to a crib.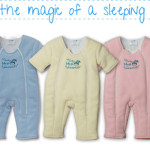 Product #3: Baby Merlin's Magic SleepSuit
This swaddle transition product is designed for babies too old to swaddle but still want that cozy and contained feeling while asleep. We appreciate their commitment to safe sleep throughout their website and in regards to the recommendations on using the product. However, we are concerned about baby over-heating when using this product and over–heating is a contributor to SIDS.
KID's verdict? Stick with lighter wearable blankets.