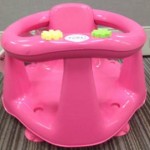 Infant bath seats made headlines back in 2010, when the CPSC created a mandatory standard  to address the injuries and fatalities these products were causing. To prevent drowning deaths, the standard is very strict – no bath seats currently meet that standard. This post will outline the hazards posed by bath seats and remind you why we recommend against using them.
Research shows that bath seats create a false sense of security. Parents and caregivers are more likely to leave an infant unattended in the bathtub when using a bath seat. The false sense of security provided by a bath seat makes caregivers feel that they can safely step away from the bathtub for a moment, or lessen their supervision. In addition, the seats are prone to tipping over and then holding an infant under the water. These circumstances led to dozens of deaths. According to a 2015 CSPC report, baby baths, bath seats, or bathinettes accounted for 5% of the reported deaths by nursery products from 2010-2012. Even infant bath tubs, which are recommended over bath seats, are sometimes subject to recalls. In fact, an infant bath tub was recalled in October of this year after 91 reports citing incidents and injuries.
Bath seats are NOT safety devices, or a substitute for adult supervision. Even within the past year, heartbreaking stories of infants drowning as a result of bath seats have made headlines. For these reasons, KID recommends against bath seats altogether.
Here's what you need to know about bath safety:
Never leave your infant unattended during a bath; they should always be within arm's reach
Gather everything you will need for bath time so you do not have to step out for any reason
Instead of a bath seat, consider using a smaller baby bath tub that meets safety standards inside of the larger bath, making sure the main drain stays free.
KID is here for you, and you can visit our Product Hazards page on bath seats page for more information.