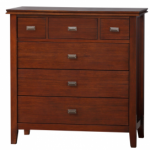 Over the past few months, we've heard more parents, caregivers, and safety professionals discussing the hazard of furniture tip-overs than ever before. Social media presence, efforts by KID and other safety organizations, and TV news coverage have all played a role in raising awareness about this issue. In preparation for Super Bowl Sunday – a big day for the #AnchorIt campaign – we wanted to update our readers on this hazard. Current CPSC data shows that a child in the U.S. is injured every 30 minutes as a result of a furniture or TV tip-over. Every two weeks, a child dies as a result of a tip-over incident. This blog post will cover some of the recent progress that has been made, as well as next steps that you can take.
In the past few months:
June, 2016: IKEA recalled 29 million dressers, including their popular MALM line, due to tip-over hazards. We now know that 7 children have lost their lives as a result of these IKEA dressers. If you own furniture involved in this recall, it's not too late to get a full refund. Click here for more information about how to get a refund, replacement, or repair kit. IKEA will even come pick up the dresser.
August, 2016: KID and Shane's Foundation released their groundbreaking research report entitled Furniture Stability: A review of data and testing. The report included data analysis of trends in tip-over incidents as well as testing of 19 products at a UL lab. We're excited to see how the report will continue to impact furniture safety standards and prevent tip-over injuries and deaths.
January, 2017: Footage of a tip-over from a nursery camera goes viral on social media. The video shows a young boy rescuing his twin brother after their IKEA dresser tipped over on him in their room. We are so glad that these twins are safe, but we know that not all children are so lucky. In response to the video, CBS reporter Dorothy Tucker came by the KID office to discuss the hazard of furniture tip-overs with KID's Executive Director, Nancy Cowles. There were four dressers recalled this month due to tip-over hazards.
What Now?
The #AnchorIt campaign aims to make a big impact during Super Bowl 51. The CPSC will be airing educational videos and sharing tip-over resources. You can join in by posting on social media using the #AnchorIt and #SB51 hashtags.
There are a few quick and low-cost safety measures that any household can take to reduce the risk of furniture tip-overs. These include:
Anchor furniture to the wall or the floor
Mount TVs on the wall and avoid placing TVs on furniture not designed for that purpose
Keep objects such as toys and remote controls off of furniture so that children will not be tempted to climb up
Keep TV cables and cords out of reach
Buy furniture that meets ASTM F2057-14 standard, a voluntary standard regarding furniture stability
For more information on this hazard, visit our Product Hazard page on furniture tip-overs. Stay up-to-date on this hazard and other safety news by connecting with KID – Follow us on Facebook and Twitter and sign up for our newsletter and email alert on our website.