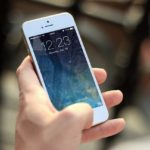 This week at KID we celebrate the strides we have made in making recall and product safety information more accessible to parents and caregivers through our mobile site. Five years ago this week, we launched our mobile site* with the help of WeMakeitSafer and Table XI. The mobile site allows parents and caregivers have access to the latest recalls at their fingertips. Just as you'd look for reviews on a movie or restaurant before spending money, you can use the KID mobile site to check for safety information as you shop for children's products.
Our mobile site was designed with caregivers in mind. We made sure that it was easy to use and works quickly for those in-the-moment decisions while shopping. Go to www.KidsInDanger.org from your smartphone and type in the name or manufacturer of the product in the search bar at the top of the page. If that product has been recalled, information about the recall will come up immediately. You can even type in a product category such as 'strollers' to see all stroller recalls. In addition to recall searches, our mobile site offers the latest safety news, as well as access to KID's full site.
KID's mobile site is one online resource that parents and caregivers can use to stay informed about product safety. There are many other online resources designed to help caregivers keep children safe from dangerous products. Here are a few of our favorites:
Follow KID on Facebook and Twitter to get the latest updates on product safety, recalls, and research to best protect your children.
*Note: although this mobile site was active for approximately 6 years, KID has replaced the mobile site with a new, renovated one that mirrors the laptop accessible site. In doing this, we make more of our services available to individuals who are looking into KID through their mobile devices, rather than a standard computer.