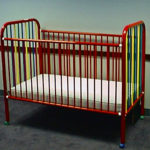 This week, we are honoring the memory of Jamie, who was killed in July 1998 when he became trapped between his crib mattress and the mattress support. The mattress, which was purchased with his crib from Cosco, was not a standard size, and the mattress support was built using metal bars instead of a spring frame. Jamie's weight compressed the mattress, pushing it between the bars on the crib's platform. He became entrapped and strangled.
Jamie's story is not unique. In fact, cribs themselves are responsible for more infant deaths than any other nursery product. Tyler died when a single screw on his drop-side crib became loose, creating a gap wide enough to trap his neck. When this happened, the side of his crib became a spring-loaded vice, strangling him instantly. Liam died after becoming trapped between the mattress and side rail that had pushed away, and at least two more babies died in the same crib before it was recalled for its faulty side rail. Bobby was suffocated when the side rail of his drop-side crib came loose and trapped him between the mattress and the rail. As a result of these families' efforts, and KID's advocacy work on their behalves, the strongest crib standard in the world went into effect on June 28, 2011. In addition to banning the drop-side design, the standard requires stricter testing and other improvements.
Jamie's parents shared the story of their son, whom they affectionately refer to as Buddy, so that other caregivers would be more aware of the hidden dangers of some children's products. The defective crib mattress that killed Jamie was recalled by Cosco in February 1999, but other products still on the market can also create unsafe sleep environments.
KID will continue to work on Jamie's behalf, advocating for higher standards and safer sleep products, and will hold manufacturers accountable for unsafe products.
For more information on crib safety and current standards, visit our product hazard page on cribs. Caregivers can also register durable children's products (such as cribs) with the manufacturer. Registering a product is the only way that a manufacturer will know how to contact you in the event of a safety alert or recall. Check out KID's Product Registration Flyer for more details. To stay up-to-date on product recalls and other safe sleep and product safety news, sign up for KID email alerts and follow us on Facebook and Twitter.