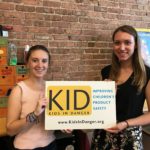 One of the most rewarding parts of the day-to-day at KID is sharing our space with a wonderful group of interns and volunteers. At a small organization such as KID, we rely on these dedicated volunteers and interns to help fulfill our mission. Continue reading below to hear from a few of our interns on what they've been working on this summer.
Rachel Constanzo
In the past year that I've been interning with KID, I have been involved with many projects and learned a whole lot about the behind-the-scenes work at nonprofits. KID is special in that they allow interns to be closely involved with many projects, and even spearhead projects ourselves.
Typically, I help out where I can and complete various tasks to keep KID's programming running smoothly, such as drafting grant applications or updating files. I've written many blogs, helped plan and organize KID's social media, and created various graphics for KID's educational programs. For the past few months, I've worked to update the TEST program and redesign it for an upcoming high school pilot project. To prepare for the pilot, I've updated the current research we have on engineering programs and restructured the curriculum to make it well suited for a high school classroom. I've drafted outreach letters to get more schools and universities involved with TEST. This summer I am also helping to plan KID's future advocacy work, which has involved a lot of research and writing regarding childcare facility regulations. Finally, having been a part of KID's Best Friend Award celebration this past year, I have begun our outreach and planning for BFA 2018 – our 20th anniversary celebration.
I have learned a lot over the course of the past year, and I am excited to continue to work with KID and contribute to their innovative work to keep kids safe.
Celia Cullom
Working at KID this summer has given me a chance to dive deeper into issues of child safety. I've been working on a research report about products recalled for fire and burn hazards over the past 10 years, which will ultimately to reaffirm the importance of KID's work. It turns out that even with advances in technology that should enhance safety features, we've seen an increase in the number of children's products recalled due to fire and burn hazards.
I've also been evaluating KID's web presence and working to increase traffic to our website through Google AdWords. This has been a particularly challenging experience for someone with no background of advertising, but it's also been a really good opportunity to learn about a prominent marketing platform I probably wouldn't have otherwise.
Click here to learn more about intern and volunteer opportunities at KID. Consider joining our team for the 2017-2018 school year! Follow KID on Facebook and Twitter for continued updates on our work.