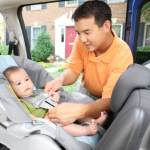 Car seat safety is of top concern for many parents—and for good reason: automobile accidents are unpredictable and far too common, and even the most cautious drivers are at risk. Many deaths and injuries result when children are not restrained properly, so finding the right car seat and installing it correctly can significantly improve your child's safety.
When shopping for car seats:
Avoid buying secondhand. Car seats may not be safe after they've been in an accident, and it's impossible to know their history if they're bought used.
Check NHTSA.gov for recalls. Car seats are commonly recalled for faulty adjustment buttons that allow shoulder straps to loosen or defects in buckles that make unlatching difficult in an emergency. Some infant seats are also used outside the car as stroller components or carriers. The CPSC may recall these seats along with the NHTSA.
Buy an appropriate car seat for your child's age and weight. The American Academy of Pediatrics advises that children not move to front-facing car seats until they are two years old or have exceeded the height or weight limit of their rear-facing car seat. Children over 40 pounds can move to booster seats, and should continue using them until they are tall enough to fit the standard adult-size seat belt. For more details, click here.
After you've purchased your car seat:
Register your car seat online or by filling out the product registration card that came with the product and sending in by mail. Registering your product is the only way a manufacturer is required to contact you in the event of a recall.
Consult with a child passenger safety (CPS) technician before your baby is born. Certified CPS technicians can instruct parents and caretakers about how to install and use a car seat, providing valuable face-to-face advice and answering questions that might not be clear in the instruction manual.
Using your car seat:
Follow installation and usage guidelines. A study published in the Journal of Pediatrics found that 95% of parents and caretakers were using or installing car seats incorrectly.
When the child is in the seat, make sure the harness fits tightly and the harness retainer clip is positioned correctly. During the colder months, clothing such as heavy coats, thick sweaters, and snowsuits creates too much space between a child's body and the car seat harness. The harness should be as close to a child's body as possible.
For more car seat safety resources, visit www.nhtsa.gov, read the American Academy of Pediatrics (AAP) car seat guidelines, and KID's #QuickTipTuesday video.
To stay up-to-date on car seat safety, as well as upcoming Toys"R"Us Trade-In events, following KID on Facebook and Twitter, and sign up for our monthly email alerts.