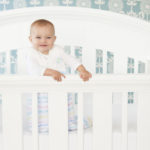 Each September marks National Infant Mortality Awareness Month. At KID, we take this opportunity to spread awareness about common hazards that contribute to the infant mortality in the U.S. The CDC defines infant mortality as the death of an infant before the age of one. As we've mentioned in previous blogs, the infant mortality rate in the U.S. still varies based on racial and geographic differences.
One of the leading causes of infant mortality is Sudden Unexpected Infant Death (SUID), which includes Sudden Infant Death Syndrome (SIDS) and accidental suffocation or strangulation. Although progress has been made, and the infant mortality rate has decreased in recent years, certain safety precautions can further reduce these risks.
Safe Sleep: Follow these recommendations to create a safe sleep environment for children.
Follow the ABC's of safe sleep: babies should sleep Alone, on their Back, and in a Crib that hasn't been recalled and meets current safety standards. Only cribs that were manufactured after June 28th, 2011 will meet the strictest safety standards. Check for recalls at gov.
The only item in the crib should be a firm mattress and tight-fitting sheet. Otherwise, #BareIsBest. There shouldn't be any other bedding in the sleep space, including crib bumper pads, blankets, pillows, or stuffed animals. Avoid blankets by using sleep sacks to keep babies warm during colder months.
Cords near the sleep environment (such as corded window blinds or baby monitors) can pose strangulation hazards. To prevent this hazard, position cribs away from windows with corded blinds or baby monitors with cords. The safest option is to #GoCordless.
All of these safety recommendations apply to nap times as well as overnight sleep – babies should sleep safely no matter the time of day.
Use these tips throughout the year to make the safest choices for your baby. For a full list of the most current safe sleep recommendations, visit the American Academy of Pediatrics (AAP) site. You can also sign up for KID's email alerts and follow us on Facebook and Twitter to stay up-to-date on safe sleep and other product safety news.