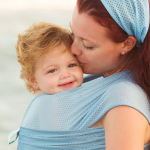 October 2-8, 2017 is International Babywearing Week. Advocates remind us that babywearing is a good bonding tool, helps premature babies regulate their heartbeat and breathing by being closely attached to the mother, and allows busy caregivers to do other activities with comfort and convenience while still engaged with the child. However, to enjoy the benefits, follow these safety recommendations.
Many baby carriers sold today must meet mandatory standards adopted by the US Consumer Product Safety Commission (CPSC) on soft carriers. The mandatory standard on sling carriers goes into effect in January 2018.  These standards give some assurance that the product meets minimum safety standards.
Between January 2003 and September 2016, the U.S. Consumer Product Safety Commission (CPSC) received 159 incident reports regarding sling carriers. Of those, 67 involved injury and 17 resulted in death. Most deaths involve suffocation, while the most common injury type is falls – of the baby out of the carrier, but also of the caregiver and the baby.
Here are some tips for using carriers and slings safely:
CPSC recommends that slings only be used with babies over 4 months old. Since babies cannot control their heads and necks in the first few months, slings pose a suffocation hazard. Especially with low-birth weight babies, premature babies, those with breathing problems, or newborns, it is best to wait to use a sling until the baby is older.
At any age, the baby should be "visible and kissable." Keep the baby's head high enough to kiss, with chin off his or her own chest, and make sure nothing is blocking the baby's nose and mouth.
Some slings can take a while for beginning users to get used to wearing. It is crucial to review and follow instructions carefully. When you purchase a carrier or sling, check for included illustrated manuals, instruction sheets, or DVDs, and even ask your retailer if they provide instruction. In addition, there are tons of resources online such as safety checklists and reference graphics for proper babywearing.
Follow KID on Facebook and Twitter to stay up-to-date with this safety issue and others.