July 28, 2018 marked the second anniversary of the recall of millions of clothing storage units (dressers) from IKEA.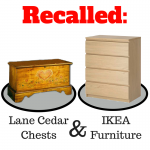 A little over two weeks before this IKEA recall anniversary, the CPSC posted another recall re-announcement.  This reannouncement was for the decades old recall of Lane chests. These chests were a staple in homes across America – holding linens, memories or for many brides, hopes for their new family in the form of gifts and hand sewn items for their new home. Tragically, these chests had a deadly flaw – the top could close and latch – with no way to open it from the inside. These chests are also airtight to keep moths out and protect the treasured items within them. Horrifically, this flaw led to tragedy: children were trapped with no way out.  Fourteen children are known to have died in these chests – as recently as 2015, despite the fact the last dangerous chest was made in 1987. Twelve million were recalled – again, most unaccounted for by the recall process – leaving millions in homes today.
Are the IKEA dressers the Lane chests of today?  Will we continue to hear of tip-over deaths for decades?  The dressers may not be built the same today, or intended to be a family heirloom, but know this: many will remain in back bedrooms, basements, children's rooms and throughout homes for many years creating a ticking time bomb that can go off at any moment given the right scenario of an inquisitive child and opportunity.  
So, if you have an old Lane or Virginia Maid chest in your home, check the recall information recently shared by the CPSC and the brand's new owners.  There are repair kits and information to make these keepsakes safe.  And if you have an IKEA dresser, check the recall list and contact IKEA to remove it from your home and provide a refund.  We know both products are hazardous, we must reach all families with either of these products in their homes.  
What you can do:
Share this blog and KID social media posts about the recalls with your networks.

Carefully check your home and those of loved ones for the Lane chests and IKEA dressers.  Act to remove the locking mechanism from the chests and return the dressers to IKEA for a refund – remember – they'll come out and pick it up.
Check out our How-To video on replacing Lane and Virginia Made cedar chest locks. For more important safety information, sign up for KID's email alerts and follow us on Facebook and Twitter.