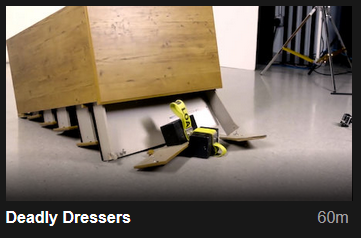 If you're looking for something to watch on TV during a cold winter day-in or staycation, check out the Netflix series Broken's episode "Deadly Dressers" which highlights the dangers of furniture tip-overs and how negligence in the production of dressers can lead to deadly outcomes.
The recently released episode, which features parent-advocates from the group Parents Against Tip-overs, who have lost children due to tip-overs, provides insight into the recent history of the furniture industry and cheap production (particularly IKEA), how furniture tip-overs occur, and how the U.S. Consumer Product Safety Commission (CPSC) has not adequately protected children from tip-overs.
According to the CPSC, a child is sent to the emergency department due to falling furniture every 37 minutes, and one child dies every 11 days. Current standards for furniture are only voluntary, not mandatory, and aren't strong enough to protect children from tip-overs.
The Stop Tip-overs of Unstable, Risky Dressers on Youth Act, or STURDY Act, would require the CPSC to create a strong, mandatory rule for free-standing clothing storage units. The STURDY Act passed in the U.S. House in a bipartisan vote in September 2019, and is now in the Senate.
Take action to prevent tip-over deaths and injuries: