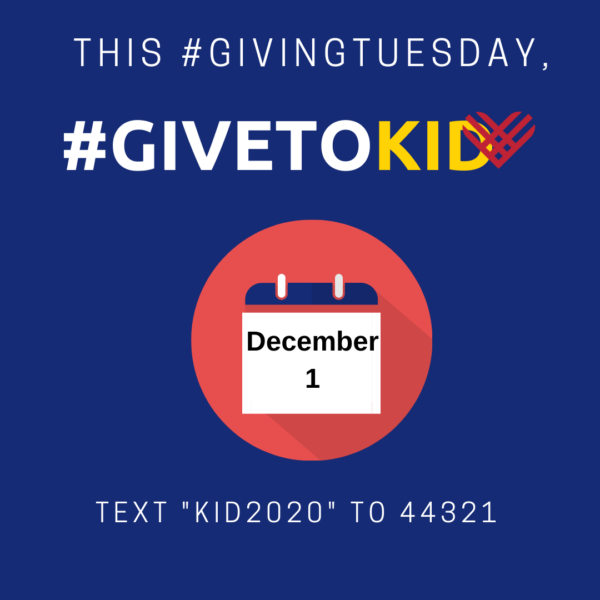 Black Friday, Cyber Monday, Giving Tuesday! December 1 is #GivingTuesday, a global generosity movement to support change-making organizations. Like many nonprofit organizations, KID is in need right now due to the pandemic. We thank you, our friends for continuing to support KID. Your support helps us fulfill our mission to protect children by fighting for product safety.
As the impact of the pandemic became clear, KID was able to pivot to continue our lifesaving work in new ways. We're leading webinars of our Safe from the Start workshop to educate parents and caregivers across the country with information about safe sleep, furniture tip-overs, choking hazards, and much more. We have published research studies on a wide range of issues such as lead in children's products and safety concerns while shopping secondhand. And our advocacy as a voice for families has continued. Your support this #GivingTuesday will help KID continue our work into 2021.
Can you support KID and encourage your friends to do the same?
This year, we're asking you to become a Peer-to-Peer Ambassador for KID. It's simple, and a great way to share your passion for KID! We provide the platform and you can spread the word in whatever way is best for you—social media, email, or text.
Follow these steps to be a KID Peer-to-Peer Ambassador:
Go to KID's Giving Tuesday fundraising page. Or text "KID2020" to 44321.
Click on the "I Want to Fundraise For This" button on the right-hand side (will be midway down the page if using mobile).
You will be redirected to a sign-up page where you'll enter your information.
Personalize your page, add a fundraising goal, profile picture, and more.
Share your page with friends and family!
And your own gift of any amount will go a long way to help save children's lives. Click here to donate to support KID's lifesaving mission.