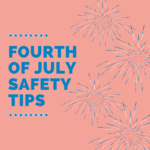 While the 4th of July is a great time to gather with friends and family for summertime fun, here are some tips to avoid injury during the holiday and to keep your kids safe.
Sparkler and Fireworks Safety
A new report by the U.S. Consumer Product Safety Commission found a 50 percent increase in deaths and injuries from fireworks-related incidents in 2020, compared to 2019. There were around 15,600 fireworks-related injuries that were treated in emergency rooms across the country in 2020 and 18 deaths; sparklers, bottle-rockets, and firecrackers are the leading causes of these injuries. This increase may have been caused by consumers using fireworks on their own because many towns cancelled their July 4th public fireworks displays in 2020 due to the COVID- 19 pandemic. Leave the fireworks to the professionals and enjoy a community display. Read more about fireworks safety from Prevent Child Injury here.
Pool Safety
Drowning is the leading cause of death for children ages 1 to 4 years and the second-leading cause of injury death for children ages 5 to 9 years. Here are some tips to keep your kids safe while near the water this weekend:
Remind children that they can only be in or around the pool when adults are around.
Put away all pool toys when swim time is over so that children are not tempted to go near the pool unsupervised.
All swimming pools (including inflatable above-ground pools) should be surrounded by a fence that is at least 4-feet high and has a self-closing, self-latching gate.
Designate a water watcher or Water Guardian whose sole responsibility is to supervise children anytime they are in or around water, without the distraction of smartphones or computers.
Read more at KID's drowning prevention page, Prevent Child Injury's Swimming Pool Safety Toolkit  and PoolSafely for more tips to keep your kids safe.
Airbnb and Hotel Safety
If you'll be staying away from home for the holiday, ask your hotel or Airbnb/VRBO about their safety protocols. Ask if the dressers and TVs at your accommodation are anchored to prevent tip-overs and request the crib make and model number. Do a quick search at SaferProducts.gov to ensure that it has not been recalled in recent years. If possible, travel with your own play yard that meets current standards and hasn't been recalled.
Stay updated on more safety tips by following KID on Facebook, Instagram, and Twitter, @kidsindanger. Let us know how you plan to keep your kids safe this holiday in the comments below or on our Facebook page.