KID FY 2021 Annual Report
JUNE 2020 – MAY 2021

Dear KID Friends & Supporters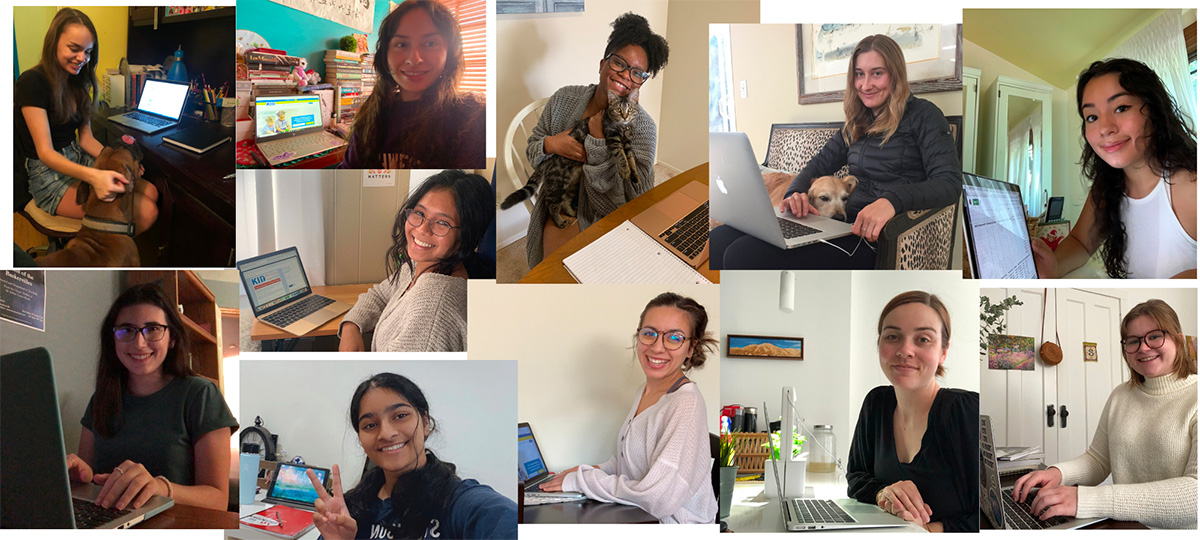 Dear KID friends and supporters,
We are excited this year to present our online annual report for Fiscal Year 2021 (June 2020 through May 2021). This format will allow you to easily see the progress you've helped KID achieve as you scroll through the photos and reports.
This Fiscal Year was our first full year under the shadow of COVID-19 and the global pandemic. KID staff spent it at home, working from our dining room tables, but staying connected in new and creative ways. Like the rest of you, we are proficient on Zoom and strive to find new ways to make that engagement as meaningful as in-person gatherings. From webinars on children's product safety, Zoom press conferences and our first virtual KID Best Friend Award Night, we took our mission online and were able to continue as a strong voice for families and children.
At that virtual Best Friend Award Night in October 2020, we honored an amazing couple, Danny and Anne Shapiro, who have been committed KID supporters for almost two decades. Their support—along with the support of so many of you—has allowed KID to fulfill our mission of keeping children safe.
As you read this report, you'll see the progress we've made in protecting children as they sleep and play; in holding manufacturers accountable for safety and strengthening a network of advocates to work with KID to keep children safe.
We'd love to hear from you about KID's progress and how we can increase our impact and carry out our mission. Please reach out to us and support our work to keep our efforts strong.

Nancy Cowles
Executive Director

Shawn Kasserman
President
KID Mission & Focus
Kids In Danger (KID) is a nonprofit organization dedicated to protecting children by fighting for product safety.
KID's mission is to save lives by enhancing transparency and accountability through safer product development, better education, and stronger advocacy for children. Since our 20th anniversary in 2018, we have been focusing on increasing our impact by investigating the use of technology and data to provide better safety information to parents and caregivers sooner and expanding our work on design safety to develop new tools for product designers and entrepreneurs.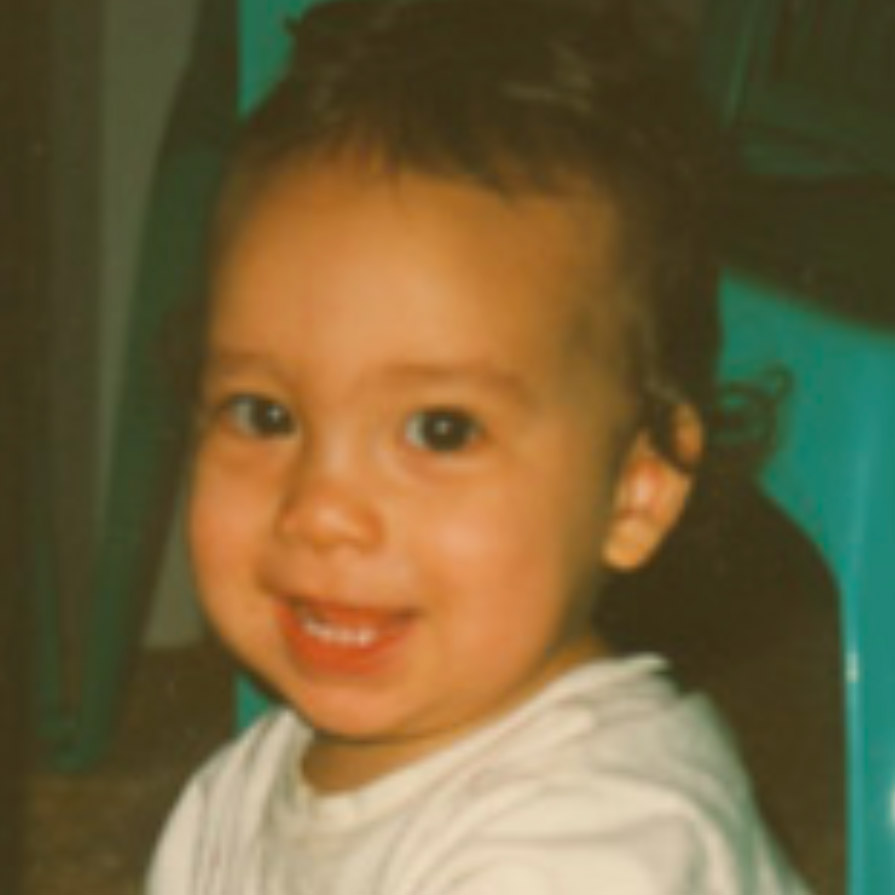 KID was founded by the parents of Danny Keysar who was killed by a poorly designed recalled portable crib in his child care home.
View More Family Voices
Advocacy
In February 2021, KID launched a campaign calling on Peloton to take down a commercial that shows images of an unsafe infant sleep environment including crib bumper pads. Over 2,000 people signed our petition, and KID staff spoke with Peloton just days after launching our campaign. The company apologized for the unintended unsafe image in the commercial and committed to not using unsafe infant sleep images in future ads.
KID testified at CPSC's FY2022 Agenda and Priorities Hearing in April 2021 and offered recommendations for CPSC to prioritize children's product safety issues such as furniture tip-overs, inclined sleepers, and ingestion hazards. KID joined numerous consumer, medical, and parent groups calling on Congress to pass the STURDY Act which would help prevent furniture tip-overs, and the Safe Sleep for Babies Act which would ban infant inclined sleep products and padded crib bumper pads which have led to dozens of infant deaths. KID, along with other organizations, sent a memo to then-President-elect Joe Biden's transition team outlining our priorities related to product safety issues such as safe sleep and furniture tip-over prevention.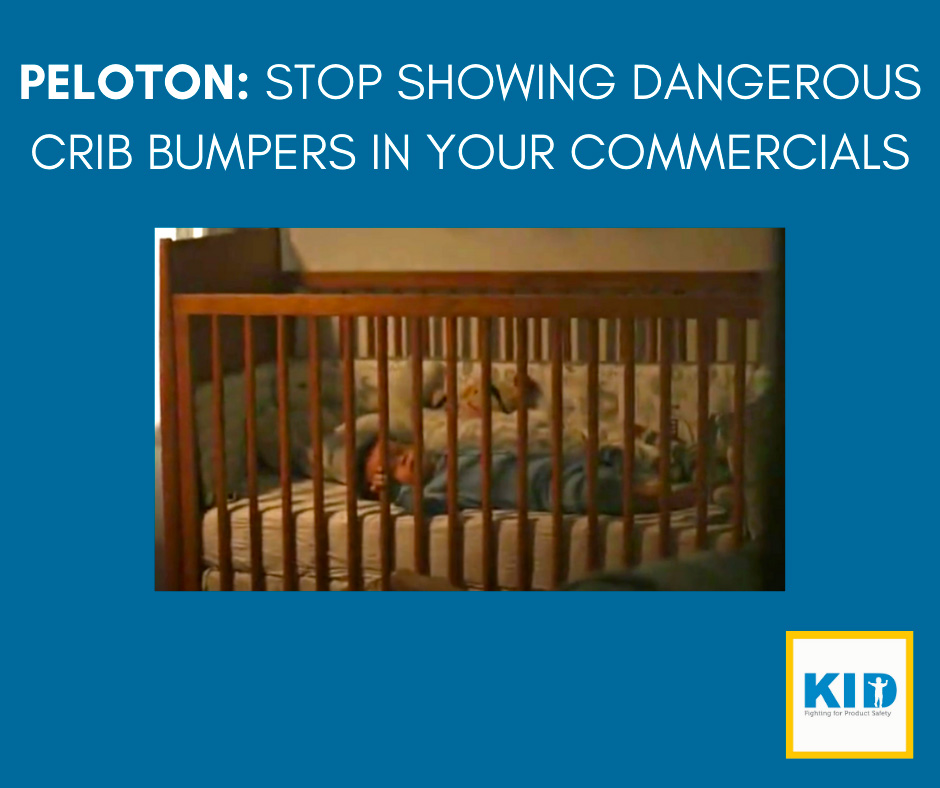 KID Board of Directors
June 2020 to May 2021

Marisol Pantoja, MBA, CPA
Treasurer
Rose Cammarata
Larry Golden
Amy Hill, MS
Benjamin Hoffman, MD
Amy Montgomery Hogan
Brendan Keefe
Heather L. Mason
Donald Mays
Susan Nied
Kyran Quinlan, MD, MPH
Ayesha Rafique
Shehnaz Safiuddin
David Zivan
KID Staff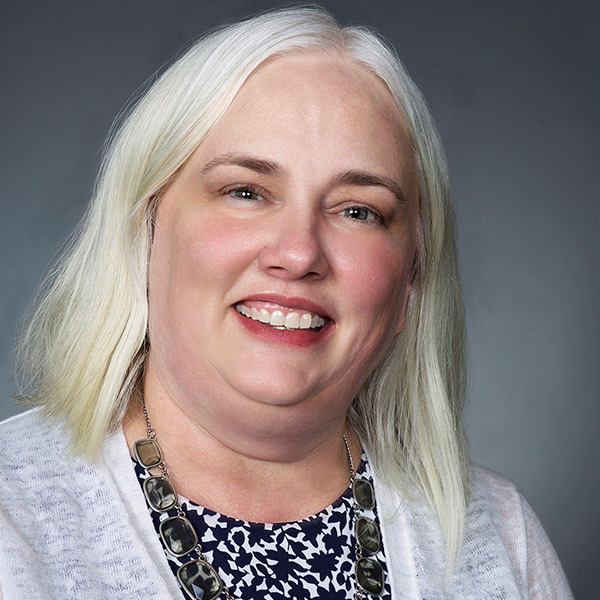 Nancy Cowles
Executive Director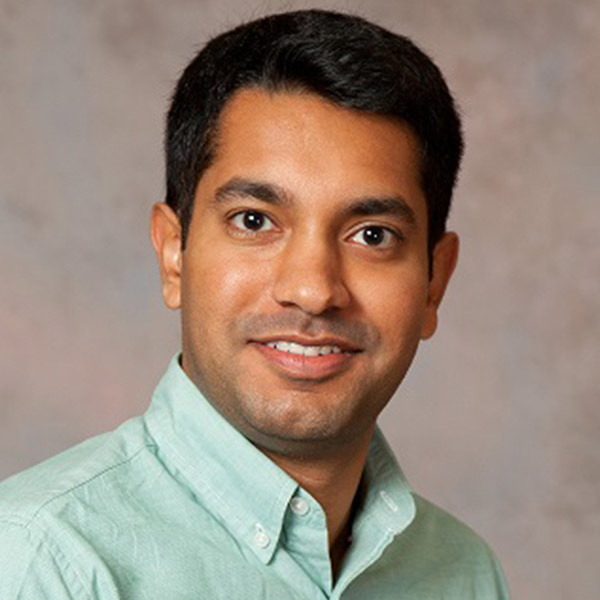 Dev Gowda
Assistant Director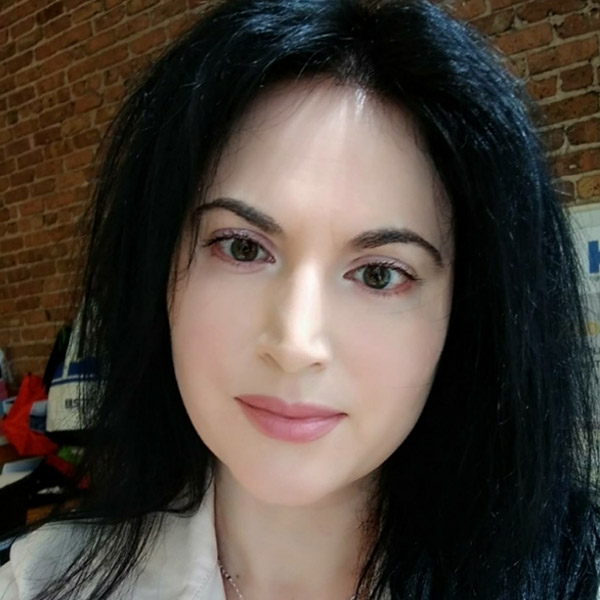 Natalija Kosic
Administrative Assistant
---
Young Professionals Board
Poonam Sharma

President
Megan Barrera
Mike Butler
Hannah Costigan Cowles
Alissa Griffin
Anne Kozisek
Chuck Porcelli
Tommie Robinson
Sheila Shankar
Work Study, Interns and Volunteers (FY 2021)
Prior to the pandemic, almost all of KID's interns and volunteers were based in Chicago and came into our River North office. Since the pandemic brought us remote working, we have been able to broadly recruit interns. We had interns and volunteers from all over the country from coast to coast and even other countries, such as Ghana, Brazil, Egypt, Poland, and China. Interns and volunteers worked on a wide variety of projects such as fundraising and event planning, program (research, outreach, social media, advocacy, and Recall.it), and general KID administrative needs. Our volunteers included several in IT that helped develop our new browser extension, Recall.it. We would not be able to accomplish our goals and fulfill our mission without our interns and volunteers, and we thank them for their service to KID.
Anahi Alcoser-Bravo
Malak Arafa
Yliana Beck
John Brannon
Kasey Campos
Julio Carvalho Leonardo
Emily Cohn
Ashley Daniel
Alanna Davis
Dominique Dungca
Brinson Elliott
Gillian Flatley
Zheng Gao
Samantha Gustafson
Samantha Herrera
Duaa Israr
Helen Kim
Phani Lanka
Xinyu Li
Maria Mendoza
Molly Miller
Riley Mortara
Esmeil Naqeeb
Daisy Okoye
Lanz Orpilla
Priyali Patel
Taylor Radack
Alyssa Reese
Hannah Rhodes
Tenika Sam
Emrecan Sanli
Laurisa Sastoque
Aniruth Senthilkumar
Brianna Siracuse
Cathy Su
Swathi Sureshmoorthy
Shreyas Tallamraju
Erin Tan
Olivia Zeng
By the Numbers
1592
+
volunteer hours ($32,905 value)
+
3,480
=
work study hours ($36,540 value)
=
5,072
total hours $69,445 value
How Interns and Volunteers Spend Their Time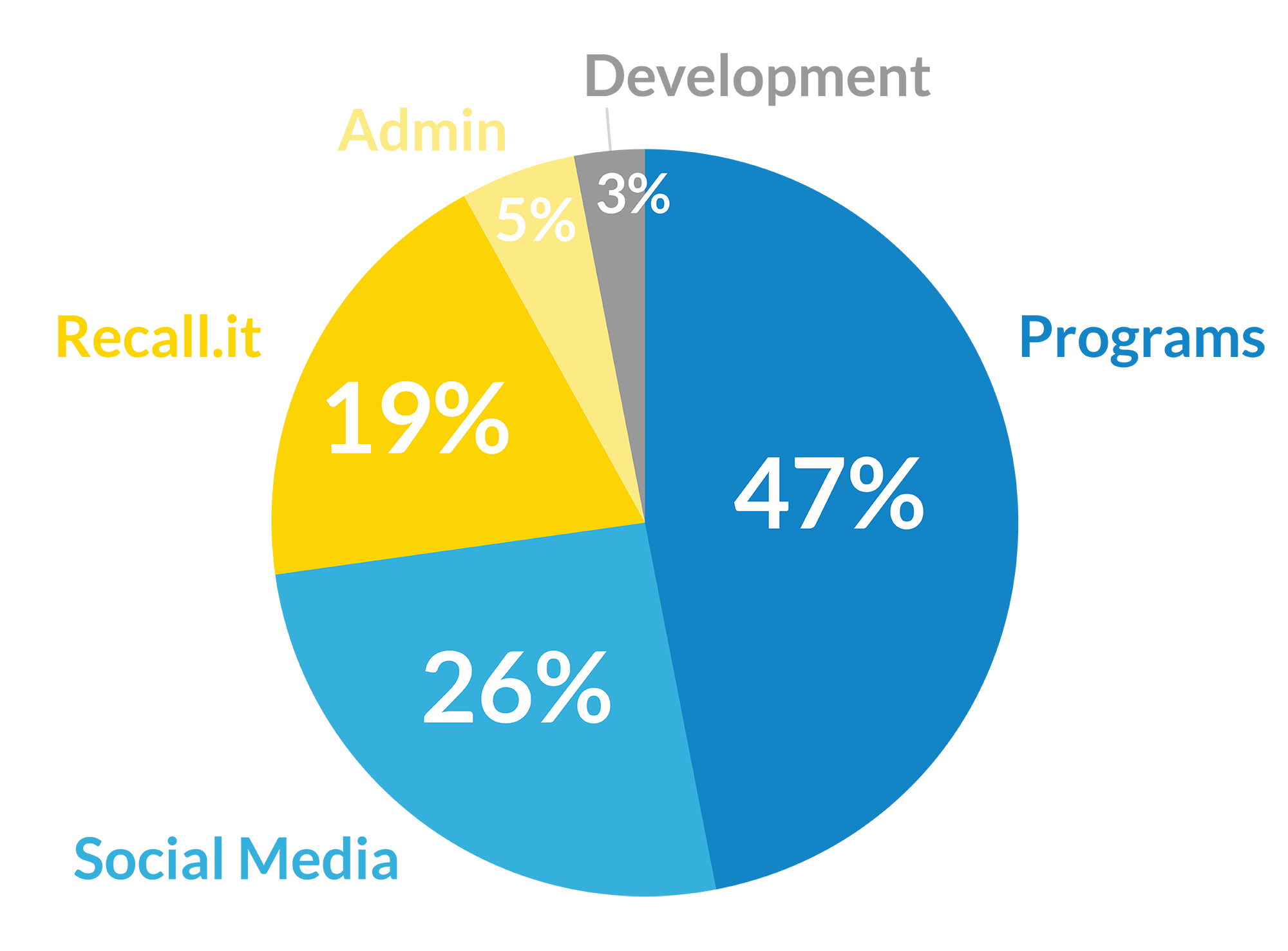 The Year in Action
Programs
Big Data and Technology
KID has been developing a browser extension called Recall.it that will give consumers more information about products they buy online. Shoppers can view recalls, incident reports and injury information while shopping on online sites such as Amazon, eBay, and Craigslist from their computer. With the support of a great team of volunteers and project manager from Simply-bi, Recall.it is reaching Beta phase. Over the past year, we have had several consumers test the extension to provide feedback, and we're working to get the extension to run faster, smoother, and with greater accuracy.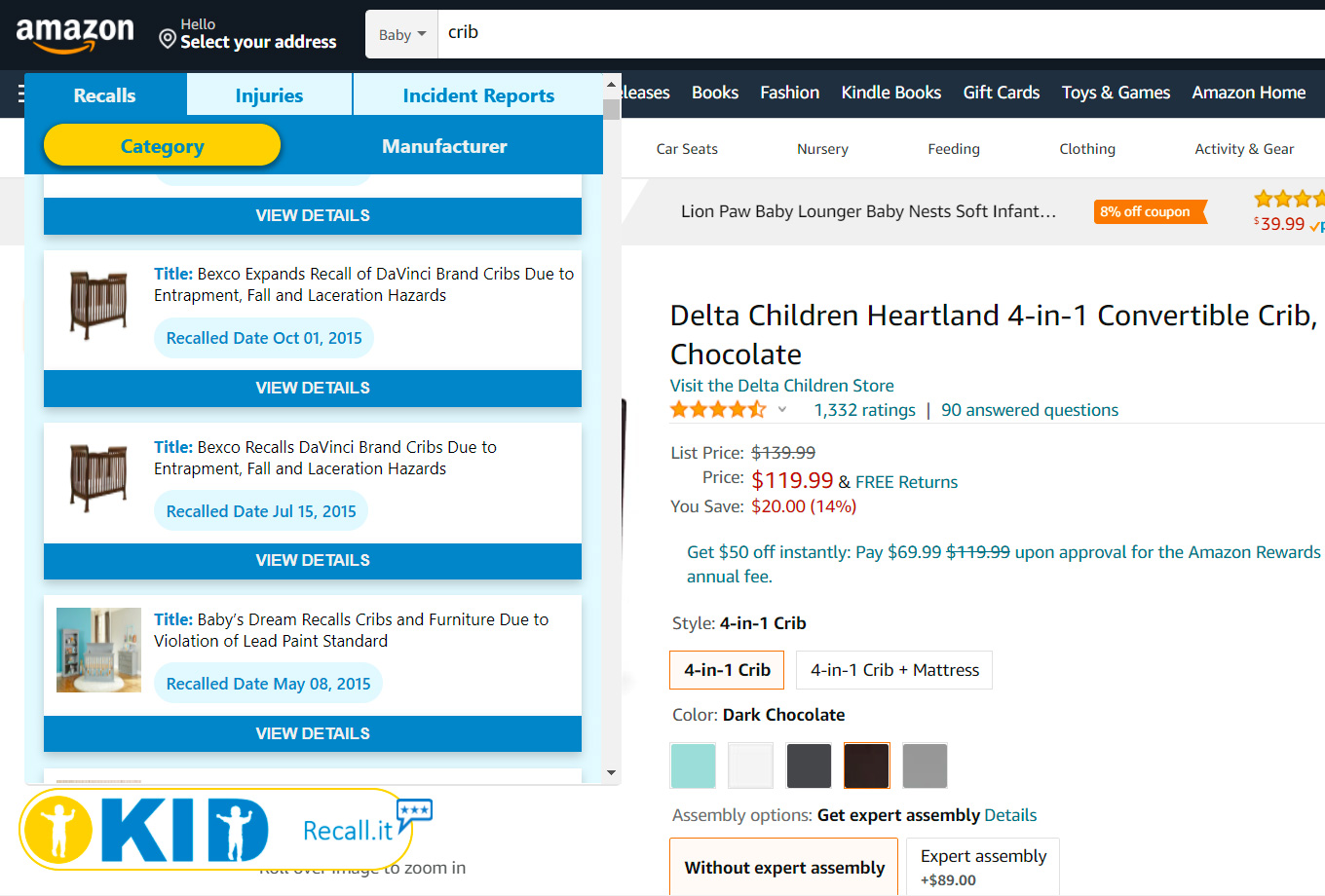 Design Safety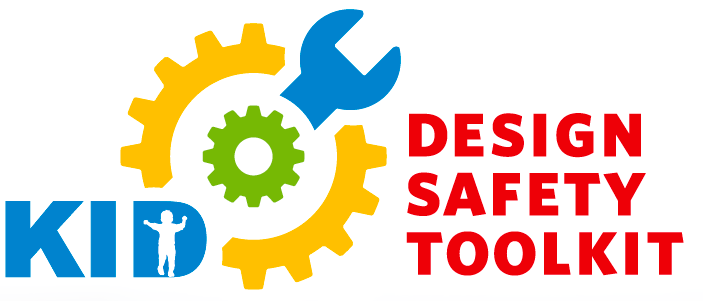 KID is working to create a Design Safety Toolkit which is a brand-new tool designed to provide small and medium sized children's products companies with the information and tools they need to design, develop, and market products more safely, is a much-needed resource in the children's products market. With the assistance of experts in a wide variety of fields such as marketing, manufacturing, human factors, and consumer safety, we are expecting to launch the toolkit in early 2022.
At the same time KID is developing a new tool, the Design Safety Toolkit, for small businesses and entrepreneurs designing and selling children's products, we are still committed to our Teach Early Safety Testing (TEST) Program, collaborating with university engineering departments. This allows us to instill in tomorrow's designers and engineers a keen sense of designing with safety and the end users in mind. Teams in the 2020 to 2021 school year from Northwestern University's Segal Design Institute designed an interactive add on to a tablet device for preschoolers and a safer baby gate, along with a child resistant compartment for coin cell batteries.
Research
Tracking Trends: Children's Product Recalls in 2020
Each year, KID publishes a report analyzing data and trends in children's products that have been recalled by the U.S. Consumer Product Safety Commission in the year prior. Our report Tracking Trends: Children's Product Recalls in 2020, showed nursery products accounted for the highest number of recalls (16), and six of the nursery product recalls were infant inclined sleep products. Inclined sleepers are inherently unsafe for infant sleep. We also found an increase in recalls of unstable clothing storage units, and products recalled for high levels of lead. Social media usage by the CPSC and recalling companies to alert consumers about recalled products continued to remain low.
Based on the report findings, KID urged policymakers and CPSC to develop strong mandatory furniture safety standards to prevent tip-overs, recall all inclined sleep products still on the market or in homes, and prioritize recall effectiveness by using all tools, including social media to increase the likelihood recalled products are removed from use.
Number of Incidents by Recall Type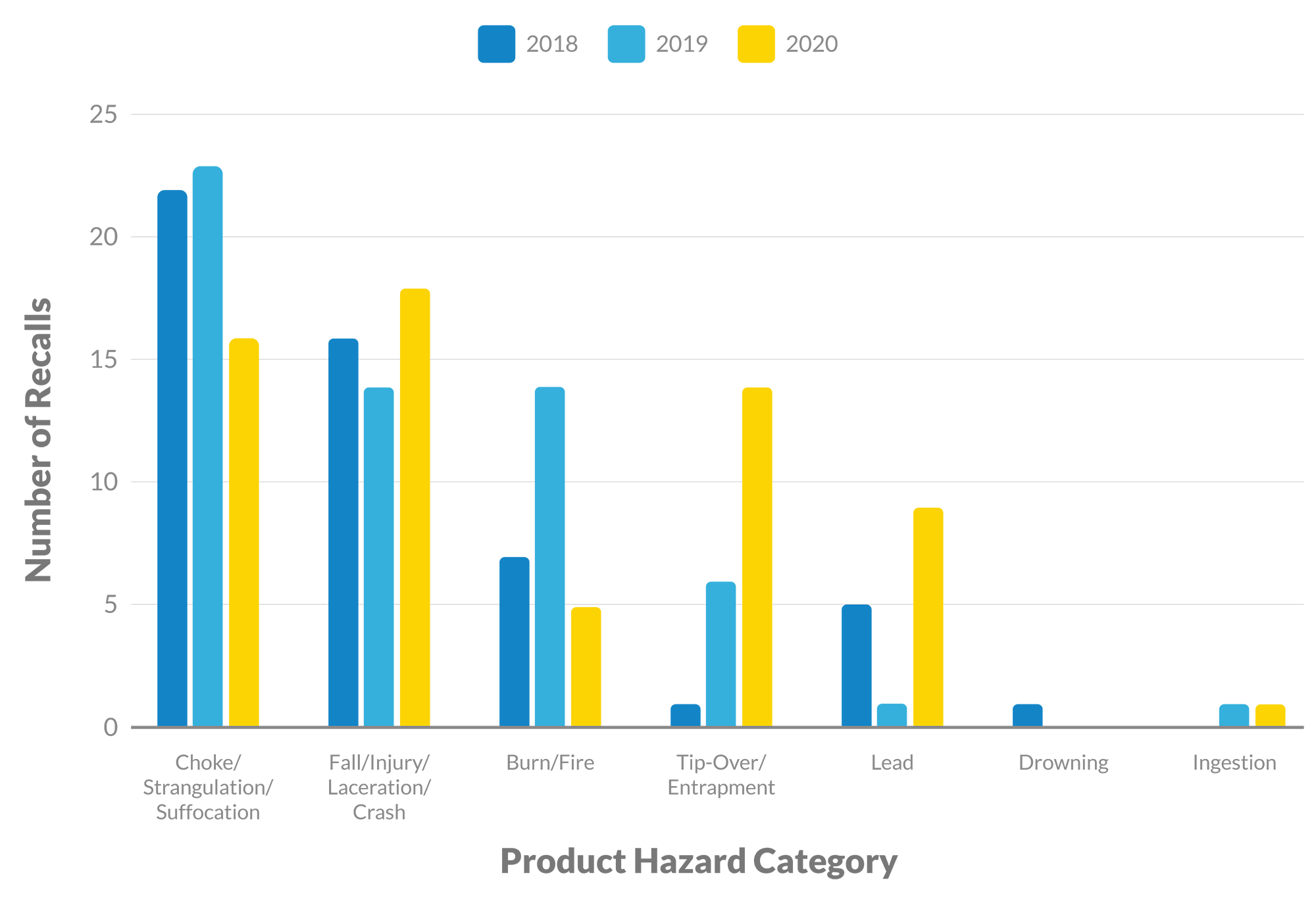 Checkup on SaferProducts.gov
KID's Checkup on SaferProducts.gov analyzed reports submitted to SaferProducts.gov by consumers, healthcare providers, state government officials and others regarding incidents with potentially unsafe products. The report included all children's product incidents posted from the launch of SaferProducts.gov in March 2011 to December 1, 2020. Almost half (49%) of the reports in the sample listed a victim under the age of three. These infants and toddlers were most affected by juvenile products, primarily sleep products like cribs, mattresses, and cradles. Of the 7,161 reports, there were 82 reports of death, 161 reports of hospital admission and 471 reports of treatment received from an emergency department because of dangerous products.
Since its launch, there have been fewer reports filed every year, indicating that the site can benefit from a greater emphasis on raising awareness of the database among consumers, as well as highlighting its role in preventing injuries and getting unsafe products out of homes.
Number of incident reports decrease over time for all
incident reports submitted to SaferProducts.gov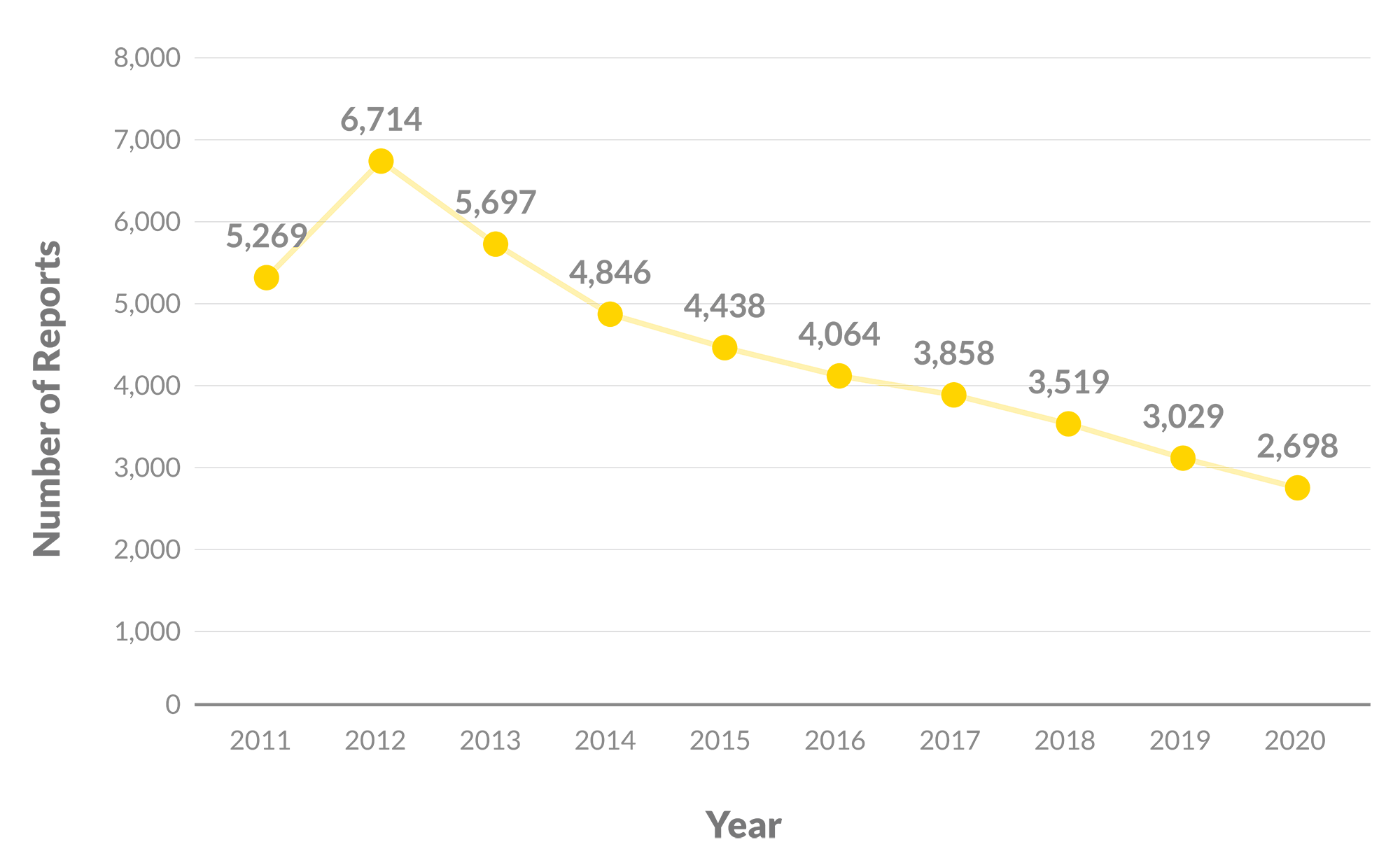 Public Education and Outreach
Throughout this year, KID staff led seven virtual presentations of our Safe from the Start workshop, educating 157 parents, caregivers, home visitors, consignments, and health professionals about safe sleep and children's product safety. KID is also conducting research to help us better serve the needs of underserved communities. We conducted 12 interviews with community group leaders throughout Chicago about safety messaging, delivery and impact, and we are currently analyzing our findings to refocus our outreach and materials.
In FY 2021, KID distributed
OVER 2,000

booklets and other safety info including:

Product

Total Distributed

Children's Product Safety Guide (English):

1,636

Children's Product Safety Guide (Spanish):

272

Safe Sleep Checklist:

102

KID Brochures:

25
KID provided 157 health care providers, child care providers, home visitors, consignment sellers and parents with our Safe from the Start and Safe Sleep virtual webinars and workshops:
Southside Southside Early Learning Network
Consignment Events Association
Tuesday's Child, Chicago
Our Babies: Safe & Sound, West Virginia
Care providers, health care professionals, and parents through open Safe From the Start webinars
Events
Conversations with KID
This year KID went virtual with events. In summer and early fall 2020, we held three unique Conversations with KID. In July, KID Board President Shawn Kasserman led a conversation with Dan Mann, an attorney who represents families whose children have died in furniture tip-overs along with Crystal Ellis of Parents Against Tip-overs, who lost her son to a furniture tip-over and has become a fearless advocate fighting for reform. In August, Nancy Cowles led a conversation with past Best Friend Award honoree U.S. Representative Jan Schakowsky, and Remington A. Gregg, Counsel for Civil Justice and Consumer Rights of Public Citizen to discuss legislative achievements and the current regulatory environment. And in September, Nancy moderated a discussion with journalists Stephanie Zimmermann of the Chicago Sun-Times and Rachel Rabkin Peachman of Consumer Reports on children's product safety and the U.S. Consumer Product Safety Commission.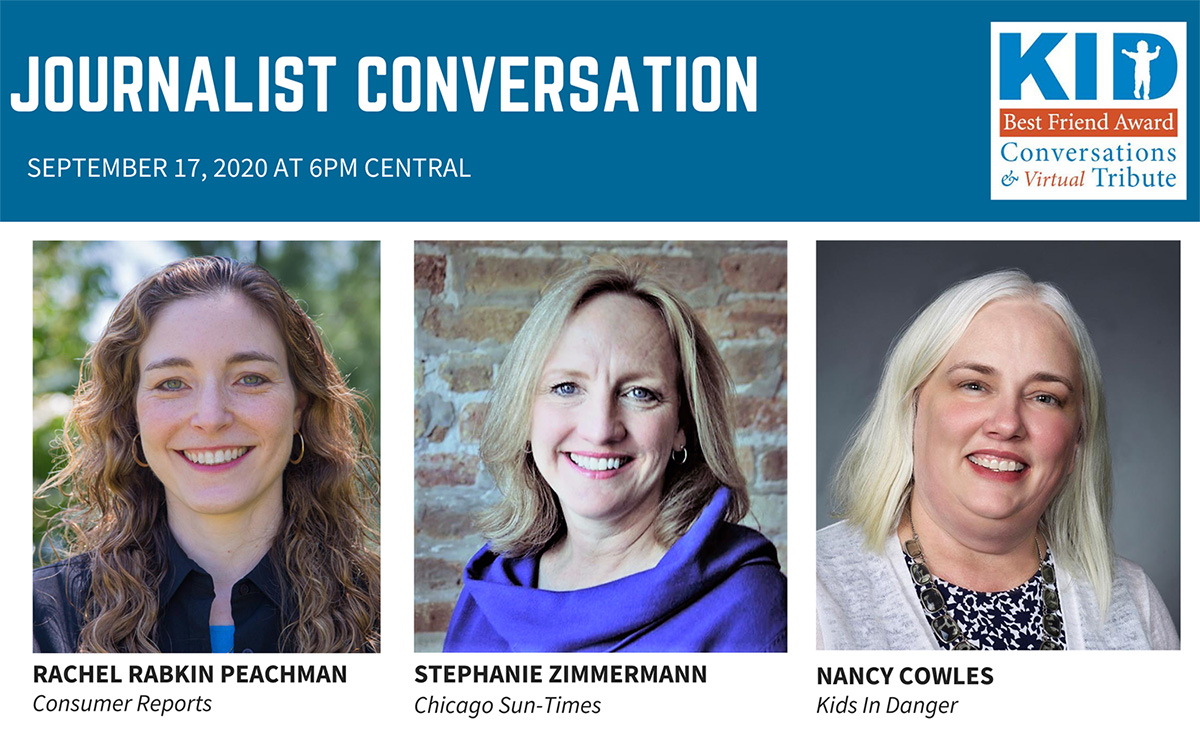 Young Professionals Board's Trivia Night Fundraiser
KID's Young Professionals Board (YPB) hosted its first virtual trivia night fundraiser on August 27, 2020. Teams competed against each other via Zoom, and everyone had a great time. KID's YPB consists of engaged young professionals who have demonstrated strong leadership qualities and are committed to KID's mission. If you're interested in joining KID's Young Professionals Board or know someone who would be a good fit, please contact us.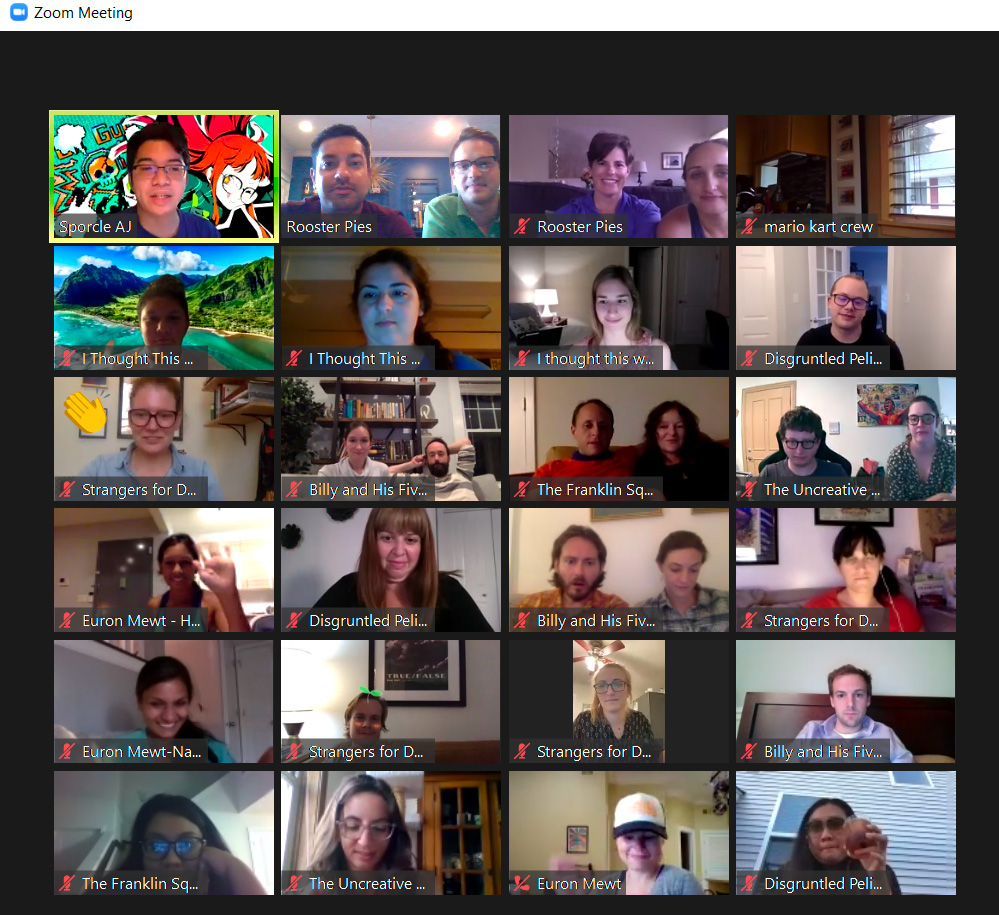 Best Friend Award Night
Each year, KID commemorates our progress, honors the memory of Danny Keysar and other victims of unsafe children's products and highlights the contributions of child safety champions at our Best Friend Award Night. The 2020 virtual Best Friend Award Night was livestreamed on YouTube and Facebook on October 15, 2020, to honor Danny and Anne Shapiro for over 20 years of support for KID and children's product safety. The event was interactive, emceed by Lisa Parker of NBC 5 Chicago, and included an auction, raffle, and messages from KID and previous Best Friend Award honorees. Watch the recording here.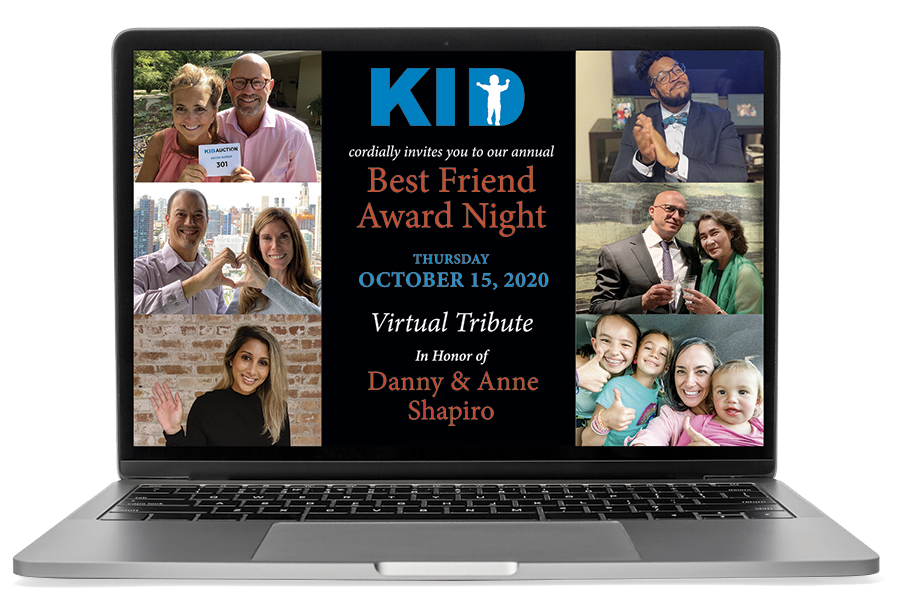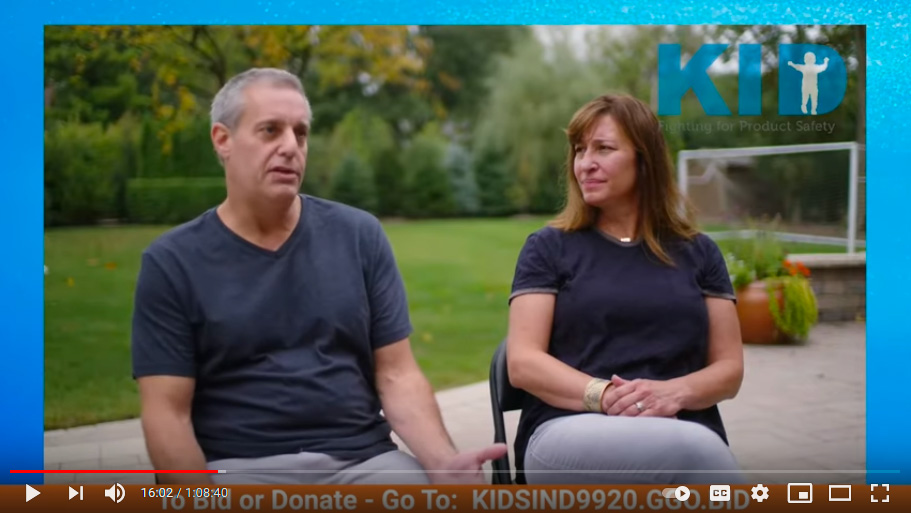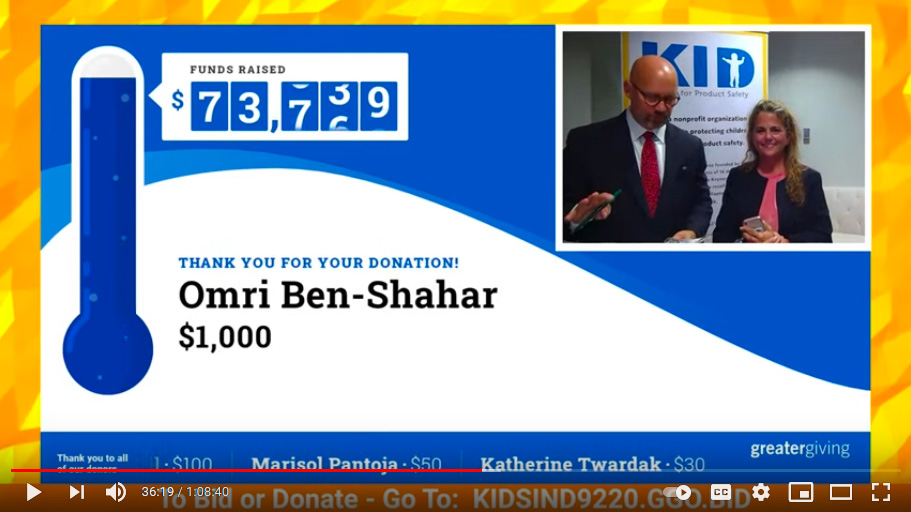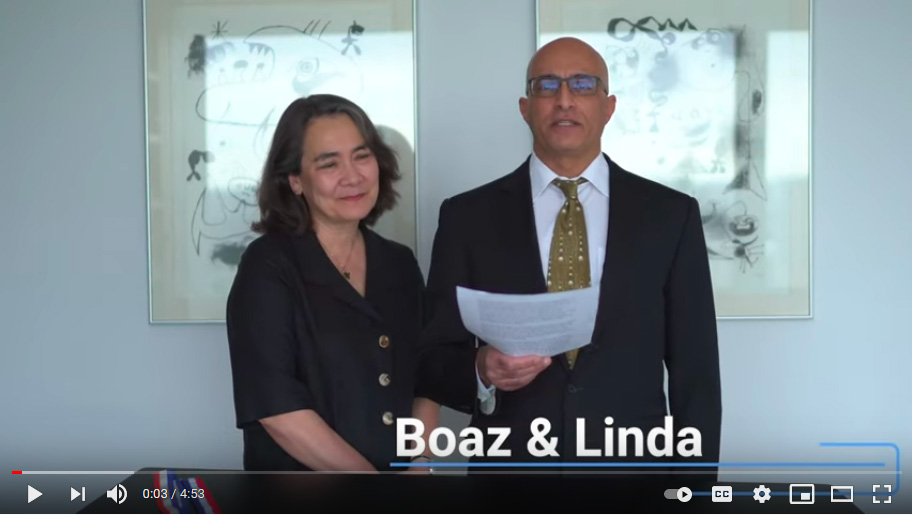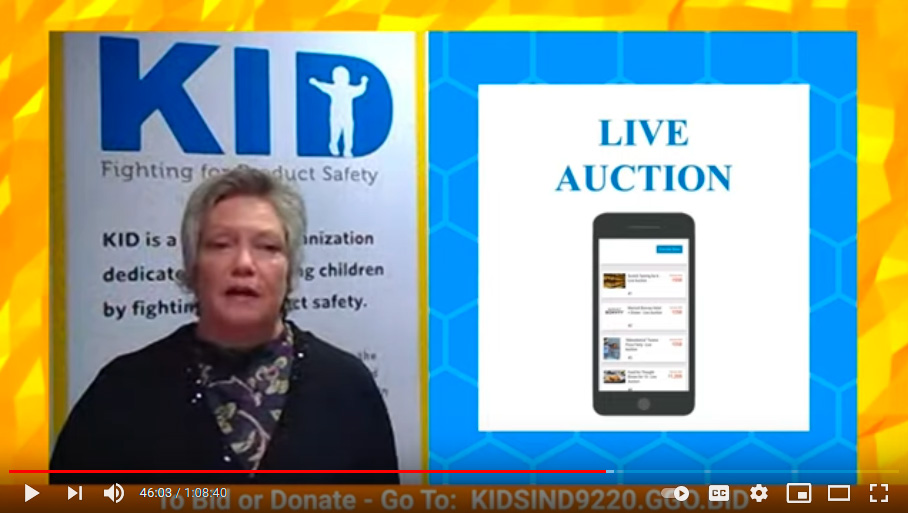 Wine and Conversation with KID
On April 29, 2021, KID hosted a virtual wine tasting fundraiser featuring wines from Napa Valley's Priest Ranch. Guests enjoyed a guided tasting experience from the winemaker, and had the opportunity to speak with KID Executive Director Nancy Cowles, who updated attendees on the new legislative environment and pandemic safety at home.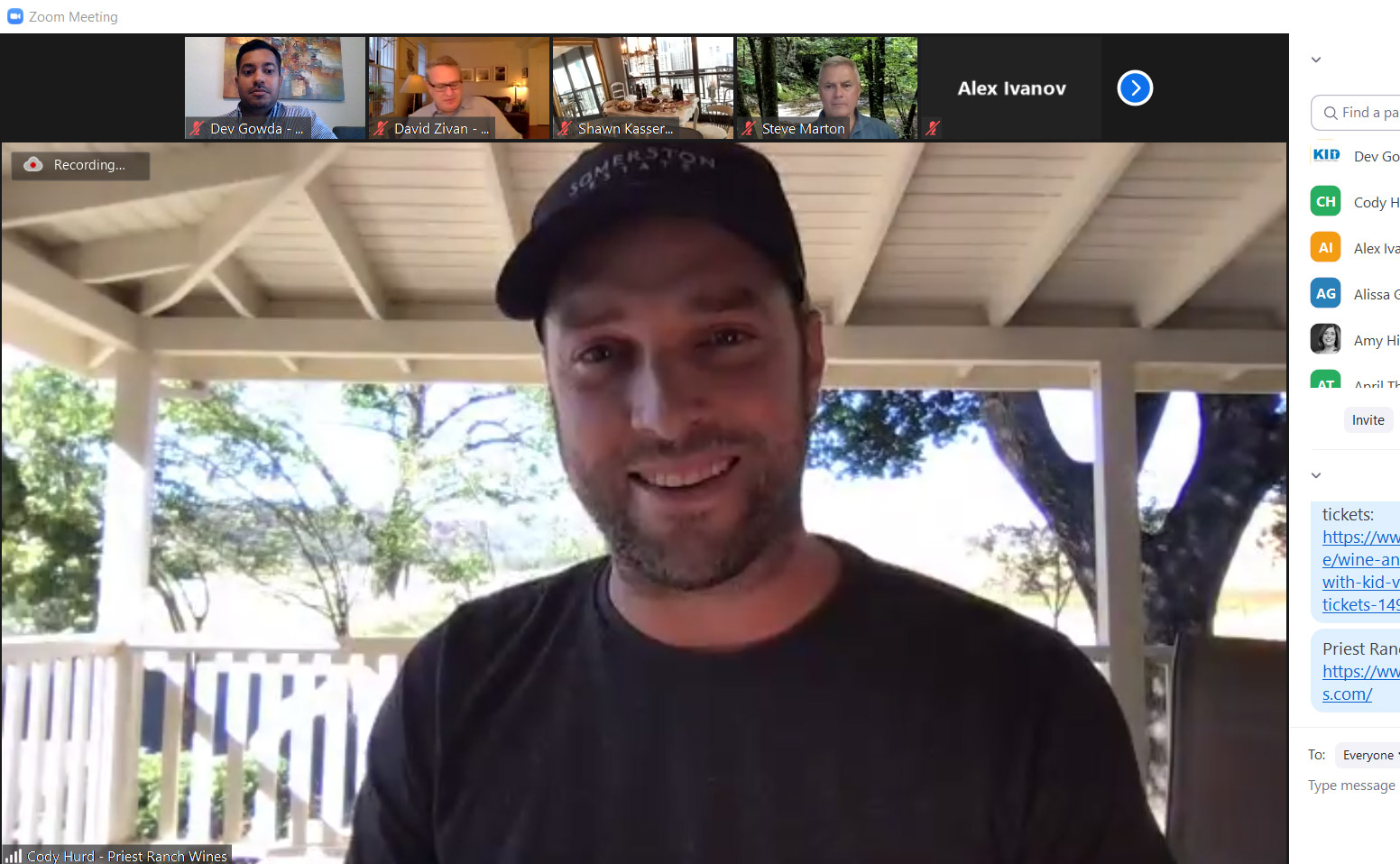 Financial FY21
Summary of Financial Position as of May 31, 2021
Assets
Current Assets
Fixed Assets
Total Assets
$330,122
$0
$330,122
Liabilities & Net Assets
Current Liabilities
Net Assets
Without Donor Restrictions
With Donor Restrictions
Total Net Assets
Total Liabilities & Net Assets
$7,256
($1,854)
$324,720
$322,866
$330,122
Summary of Revenues & Expenses
Net Assets Support
Net Fundraising Support
Public Contributions
Interest Income
Total Support
$86,376
$161,376
$236
$247,988
Expenses
Program Services
Fundraising
Administration
Total Expenses
Increase in Net Assets
$258,346
$15,346
$50,798
$324,807
($76,819)
Summary of Expenses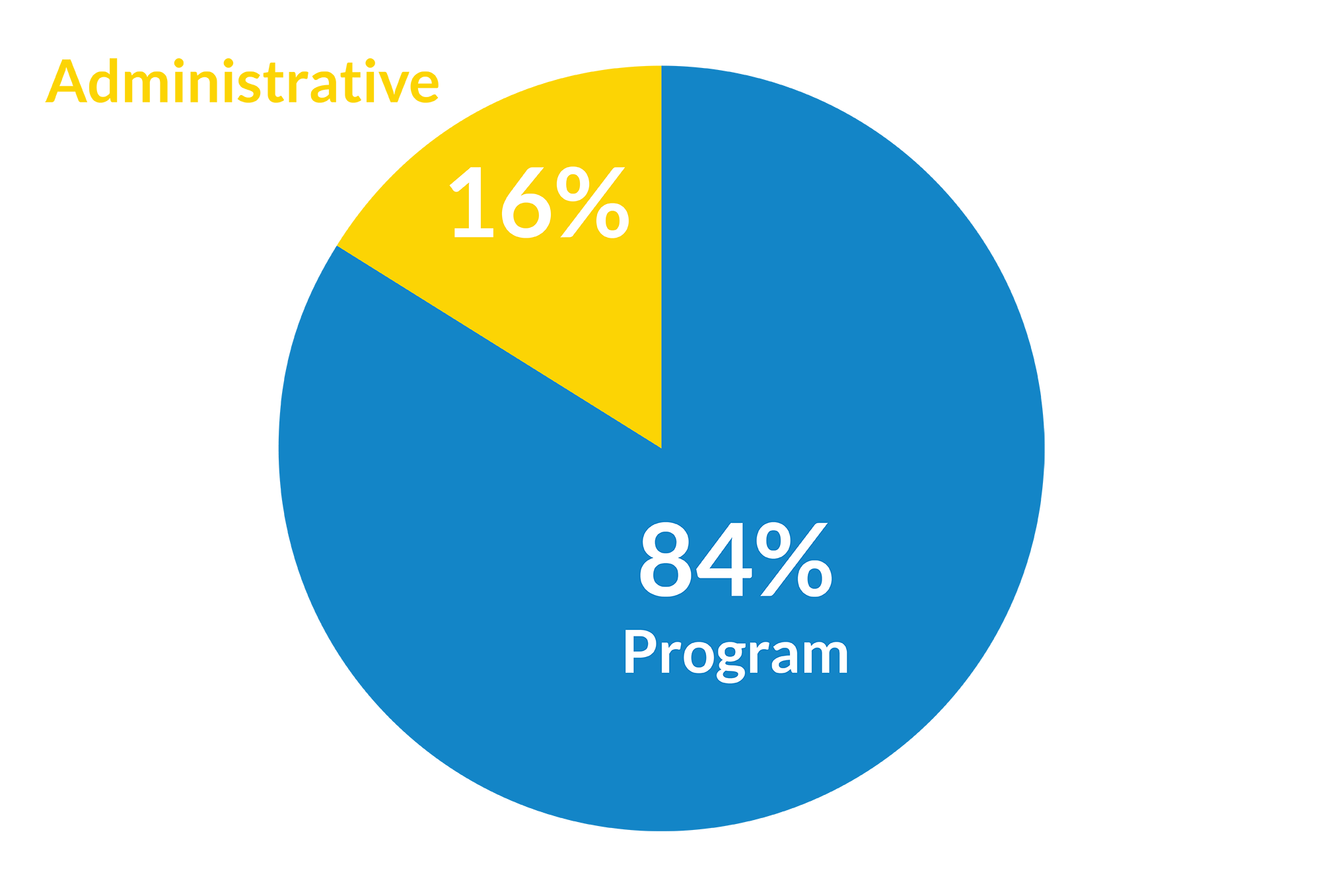 Sources of Support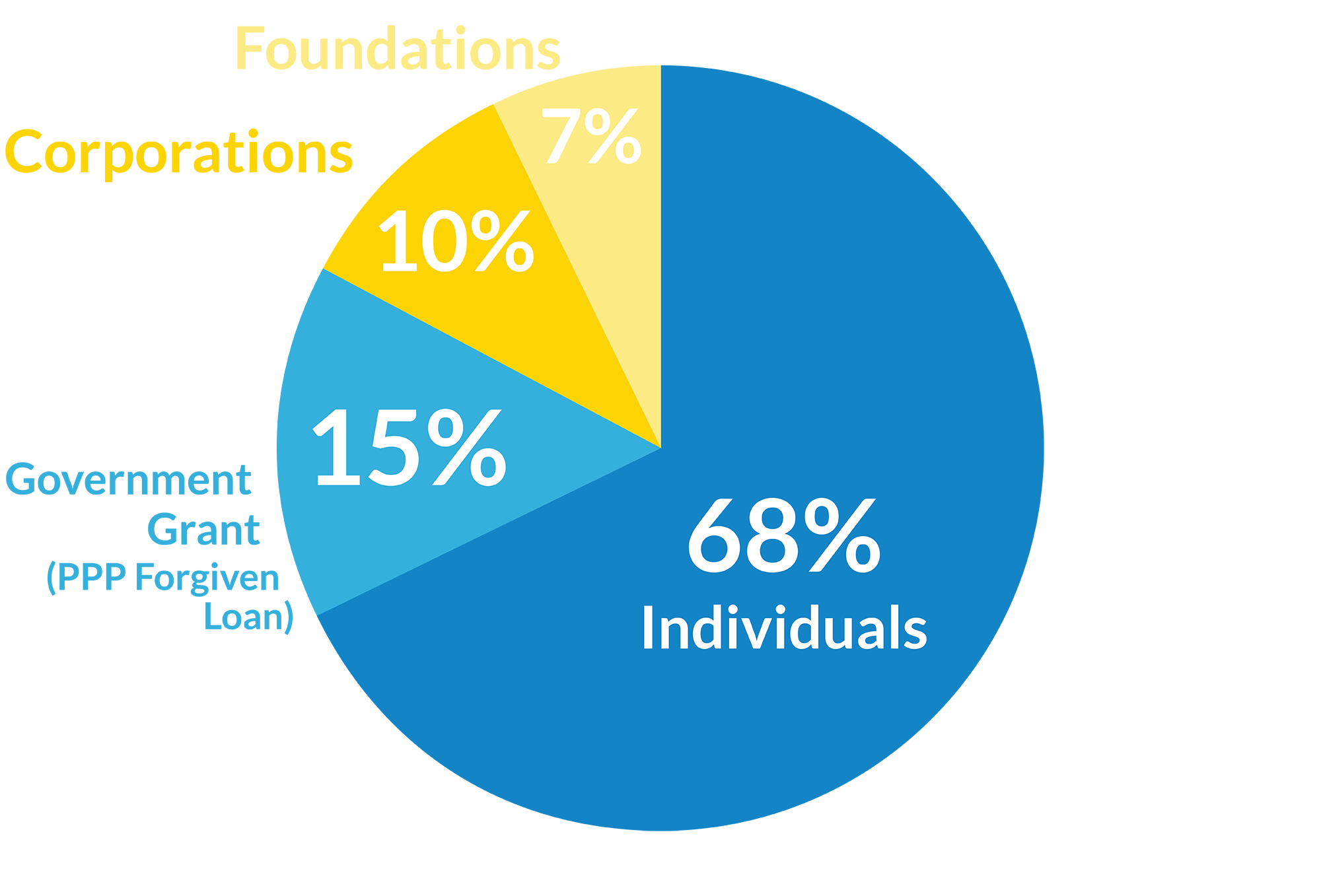 Thank You to Our Generous Donors!
Champions
($15,000+)
Danny & Anne Shapiro
Defenders
($10,000-$14,999)
Linda Ginzel & Boaz Keysar
Protectors
($5,000-$9,999)
Jeremy and Janet McGee
Nathan & Randy Shapiro
Tomasik Kotin Kasserman LLC
The Turano Baking Company
Heroes
($2,500-$4,999)
Josh & Mindy Balonick
GATX Corporation
Susan Goldin-Meadow
Richard Larrick & Cynthia Monarrez
France Leclerc & Richard Thaler
Perry Lentine & Heather Mason
William Prinzmetal
Lisa Turano
Advocates
($1,000-$2,499)
Leslie & Blake Batterson
Sally Blount
BreathableBaby
Mary P Brown
Sarah Clarke & Omri Ben-Shahar
Kay Deaux & Sam Glucksberg
Eugene & Sally Fama
Kevan Flanigan
Sonny Garg & Julia Harris
Amy Hill
Dawn & Shawn Kasserman
Amy & Brian O'Connell
Park Lane Jewelry
Barbara Passy
Drs. Kyran & Maura Quinlan
Ayesha Rafique & Sunil Mehra
Marcia & Joseph Romano
Shehnaz Safiuddin
Judy & Mark Sage
Nancy & Gregg Seiler
Carol Senderowitz
Dr. Karen Sheehan & Stuart Hersh
Todd & Marcia Smith
Bob & Jill Tanz
Bradley Zamler
Sustainers
($500-$999)
Anat Admati & David Kreps
John Benedict
Amy & Brian Boonstra
Jeanne Brett & Steve Goldberg
Nancy Burton
Rose Cammarata
Barry Cik
Suzanne & Harry Davis
Jonathan Eig & Jennifer Tescher
Steven Elrod
Hayley Fink
Daniel T. Gilbert & Marilyn Oliphant
Noah Goldstein
Vasanthi & H.K. Gowda
Steve & Cathy Haas
Amy & Kevin Hogan
Gail Chaney Kalinich
Amy Kelly & Janna Lombardo
Megan Kelly & Bill Wolf
Tomer Keysar
Susan & Michael Levine
Daniel J. Mann
Ed Moore
Susan Nied
Christopher Norem
Bridget O'Neill
Justin & Marisol Swindells
Jane Passy
Holly Raider & Jerold Lavin
Timothy & Jill Schlindwein
Susan Schwartz
Doug Secord
Jack Vance Secord
Marc & Noa Shinderman
Caroline & Allen Shoenberger
Leslie & Steven Swibel
Linda Erf Swift
John Lineweaver
Terrence J Truax
George Wu and Penny Visser
Drew & Jen Weller
Rebecca White & Mike Delejewski
David Zivan & Jennifer Gorman
Jeffrey Zivan
Foundation Grants
Consumer Federation of America
DaVita
Reva and David Logan Foundation
Samsung Electronics America Community Impact Grant
The Turano Foundation
Underwriters Laboratories, Inc.
In-Kind Donations
Charlie's Kids Foundation
Consignment Events Association
Matching Gifts Companies
AbbVie
CDK Global
Exelon Corporation
Facebook
Hearst
Microsoft Matching Gifts Program
Nuance
Samsung Electronics America, Inc
TransUnion
Wells Fargo Employer Match
Workplace Giving Campaigns
America's Best Local Charities
Combined Federal Campaign
City of Chicago
Deloitte
Exelon
Health Fitness
Marie Claire & Future
Microsoft
PwC US and Mexico
The Boeing Company
Guardians
($250-$499)
Deborah & Robert Z. Aliber
Howard Ankin
Raymond & Susan Black
Marc Blumenthal & Sharon Veis
Mary Brandon
Susan Goldberg Brazas
Charlene & Scott Bryeans
Jane & Dennis Carlton
Rita & Steve Cevaal
Philip & Margaret Corboy
Hannah Costigan Cowles & Chris Tinsley
David & Mary Costigan
Linda Covington & Steven Sloman
Emily DeMarco
Ellen & John Engel
Talya Ezrahi
Alan M. Feldman
Alon & Ayelet Fishbach
Robert Hughes, CPA
Nick Furtwengler
Kevin & Jojie Gallagher
Patrick Giese
Lawrence Golden & Sarah Cycotte
Amy Howland
Robert & Frances Hughes
Jasmine Kwong & Ashwin Avasarala
Patricia La Malfa
Barry Lesht & Kay Schichtel
George Leynaud
Agnes Lugo-Ortiz & Diane Miliotes
Gale Lukat
Martin & Debra Marcus
Steven Marton
Don Mays & Jonea Gurwitt
Alexander Memmen
Pam Menaker
Michelle Million & Michael Ranney
Vaishak & Cailyn Mittur
Victor Mor-Avi
Michael O'Rourke
Diane Gutmann & Thomas Palay
Katherine Ranft
Antonio Romanucci
David Schwartz & Corey Rosen
Tony Scott-Green & Lisa Kueng
Bradley J. Secord
Dr. Joon Shim & Jonathan Pincus
Daniel Sternberg
Tim & Jennifer Tomasik
Marcy A. Twardak
Karen & John Wheatley
Matthew Wiesbrock
Fred & Kay Yates
Allies
($100-$249)
Susan Allen
Amazon Smile
Brigitte Anderson
David & Mary Baker
Megana Balentine
Kenneth Bardach
Megan Barrera
Kevin & Melinda Bendle
Joanne Bianchi
Zoe Biggs
Julia Brady
Thomas & Renee Buck
Michael Butler
Regina Calcaterra
John L. Cella, Jr. & Laura D. Prail
Barbara & Joel Cooper
Elizabeth Costigan
Joe Costigan & Nancy Cowles
Ariela Keysar & Peter Coy
Jenny DeGroot
Hiral Dillon
Jason Dompeling
Judith Dow
Colleen Driscoll
Rhonda Duffaut
Deborah Fallahay
Mary Ellen & Tom Fise
George Foster
Kathryn Fox
Anne & Ken Frantzen
Robert and Elizabeth Friedman
Kacey Fung
Terrie Jean Gale & Robert S. Adler
Joanne Gilbert & Mike Bishop
Jim & Jenny Gillespie
Heidi & Ryan Gillmore
Elissa & Craig Goldsmith
Jeremy Gottschalk
Alissa Griffin
Scott Griffin
Varun Gupta
Paula Haggerty
Mark Hassakis
Lance & Ann Hopkins Avery
Cecilia Horan
Brett Horn
Pamela Hoxsey
Elizabeth Huber
Kathleen Hytros
Leah Ippolito
Samir Jabr
Nicole Kasserman
Edward & Shelley Keller
Ed & Kay Kendall
Anat Keysar
Melissa & Dan Kinzler
Lori Komisar
Cindy Koziol
Ajay Lakshman
Karen Lambert
Amy & Mark Langille
Lei Family
Edward Lerman
Hannah Levine
Kilby MacFadden
Larry M Mack
Priscilla A. Magee
George & Amalia Maglares
Anne Mansfield
Nancy Maruyama, RN
Belinda May
Cindy Miller
Suchi Nagaraj
Brian Netzky
Margret Nickels
Leo & Cam Niederman
Jean-Francois Orsini
Paula Packer
Sam & Nancy Peltzman
Mitchell & Beverly Petersen
Nipa Polisoto
Lihi and Gadi Prudovsky
Jeff & Karen Raizen
Dennis Rosen
Patricia Ruiz
Sunny & TC Russell
Laura H Sage
Neil Saha
Kim Scalise
Sarah & David Schimmel
David Schmeltzer
Heather Shaffer
Sheila Shankar
Poonam Sharma
Ted Sherman
Barry & Tina Silverman
Jeff Singleton
Laura Skosey
Timur Sobolev
Ann and Ron Stacy
Stuart Family
Jamie Sullivan
Jean Tinsley
Joseph Torres
Courtney and Paul Wachtel
Dr. Gary Wainer & Dr. Beth Volin
William Wallace
Donna Walsh
Rory Thomas Weiler
Robert & Donna Weinstein
Andrew & Ellen Weller
Joan Winstein
Scott Wolfson
Mr. Jon P Younan
Jerome Zivan
Marvin Zonis
View More
Supporters
($1-$99)
Justin Alderman
Kathy Allen
Kimberly Amato
Kristina Anderson
Cheryl & Wayne Baker
Amy Ballis
JoAnn M Barnett
Bhopesh Bassi
Celia Bayliss
Michele Bender
Jeffrey Blumenthal
Christina Brice
Mary Burden
Steven Cadkin
Dawn Ellen Carey
Virginia Chandler
Sarah Chusid
Leah Clelland Jochim
Amy Cordell Design
Natasha Cortez
Tim Craig
Tom Daniels
Courtney Davan
Jessica DeNova
Francisco Dominguez Jr
Emily Drexler
Jackie Ann Ebert
Brinson Shank Elliott
Adeline Epstein
Facebook
Jeffrey Fachler
Bob & Ann Farr
Jennifer Flink
Elliot & Tamar Frolichstein-Appel
Daniel Galvao Guerra
Chris Giles
Faith Gingold
Carla & Bob Goldberg
Jack Goodkin
Jennifer Goodsmith
Matt & Mike Gragnani
Brian Grochal
Darice Grzybowski
James & Priscilla Guest
Kathryn Hamm
Shannon Hansen
Joseph Harberg
Sayuri Hayakawa & Alex Guzinski
David Himel
Jill Hines
Michael Hirsh
Don Huber
Matthew Johnson
Ms. Virginia Jones
Tesoro Kanwit
Paul Karabush
Leslie Kay & Maryellen Begley
Tony Keen
Paul & Vicki Kendall
Hagit Keysar & Elad Orian
Avi Keysar
Elizabeth Kim
Lauren Klayman
Jeffrey Knitter
Gauri Konanoor
Nadia Kountoures
Anne Kozisek
Katie & Dave Kozisek
Michael & Rachel Kramer
Kevan Citta
Justin Kulovsek
Alexander Lambert
Valorie & Bruce Langille
Matt Licholai
D. Stephen Lindsay
Winston Liu
Madison Lo
Consuelo Lopez
Rachael & Joel Losoff
Paul Mako
Nesli Marin
Sandra Mauriello Broderick
Karen McCarthy
Wesley McKinney
Scott & Kerry Middlebrooks
Ed Miller
Mary J Montgomery
Katherine Mui
Ashwin Muni
Denise Murawski Mosco
Julie Nelson
Laura Nikolovska
Guled Nor
Rebecca Nuger
Julie Olden
Saira Pasha
PayPal Giving Fund
Dayna Perlut
Desiree Phillips
James Pickering
Julia Posluns
Margaret Power
Michael & Bettina Prober
Lindsay Proskey
Clarke Rahrig
Ginevra & Ben Ranney
Peter & Marilyn Rasmussen
Molly Reilly
Natalie Rende
Julius & Linda Rhodes
Margaret Riehl
Alexandra Robertson
Tommie Robinson
Guillermo Rodriguez
Sonya Rosenberg
Mr. and Mrs. Brad Sage
Eirene Salvi
Richard & Louise Sayah
Kevin Schacht
Miriam & Harvey Schiller
Kristina Shatalina
Karen Shields
Michiko Short
Gail Siegel
Gillian Siegel & Steven Gillman
Brianna Siracuse
Jill Slivka
SaraLyn Smith
Bill Snider
Kami Snowbarger
Adam Steffes
Rachel Stevens
Susan Stodolsky
Mollie Stone & Patty Cuyler
Paul Struebing
Kyle Swanson
Marion Synowiec
Henry Tam
Philip Terrazzino
Li Tian
Staci and Gregory Tober
Alan Leach & Michele Toti Leach
Anne M. Tremmel
Lynn Trono
Katie Twardak
Christa Van Ermen
Dawn Vogel
Ron & Nancy Volk
Kaoru Wada
Rachel Weintraub & Scott Reiter
Edward & Robin Weiss
Jordan Welling
Eric Willis
Jordan Wolff
Lai Yen Wong
Ryan Wood
View More
Auction & Raffle Prize Donors
Blue Apron
Chicago Cubs
Chill Anywhere
Daily Burn
Food For Thought
Goodman Theatre
HelloFresh
Latin Rhythms
Mon Ami Gabi
Museum of Contemporary Photography
Music Box Theatre
Neat Kitchen + Bar
Susan Nied
PRP Wine International, Inc.
Robert Campbell Fine Portraiture
Sweet Ali's Gluten Free Bakery
Wines for Humanity
David Zivan
Lisa Turano