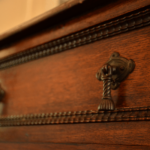 The Stop Tip-overs of Unstable, Risky Dressers on Youth (STURDY) Act passed in the U.S. Senate last week. This bill will direct the Consumer Product Safety Commission (CPSC) to create a strong, mandatory safety standard that would:
Cover all clothing storage units such as dressers, chests, and bureaus,
Require testing to simulate the weights of children up to 72 months old,
Require testing measures to account for scenarios involving carpeting, loaded drawers, multiple open drawers, and the dynamic force of a climbing child
Mandate strong warning requirements.
The U.S. House, which passed an earlier version of the bill, must now pass the Senate's version.
A February 2022 report by the CPSC showed that on average 22,500 hospital emergency visits are attributed to tip-overs per year (2018-2020), of which 44% were children. According to the report, there were 472 child tip-over fatalities since 2000, accounting for 81% of all tip-over fatalities. The STURDY Act aims to prevent these incidents by requiring a strong standard to assure the stability of clothing storage units.
For the past several years, KID has been working with Parents Against Tip-overs (PAT, recipient of KID's Best Friend Award) and other consumer advocates to pass this important legislation. The CPSC has also proposed a strong rule to prevent tip-overs last week, and the agency is expected to vote on the rule this month.
"After more than a decade of work, we have both a strong rule proposed by CPSC and are close to passing The STURDY Act," stated Nancy Cowles, KID Executive Director. "Too many families have waited too long for this and other families risk losing children if we don't take action quickly. We urge all parties to get this over the finish line now."
Have a question about STURDY or the CPSC's proposed rule? Leave a comment, or contact us through Facebook, Twitter, or Instagram and we would be happy to answer them.