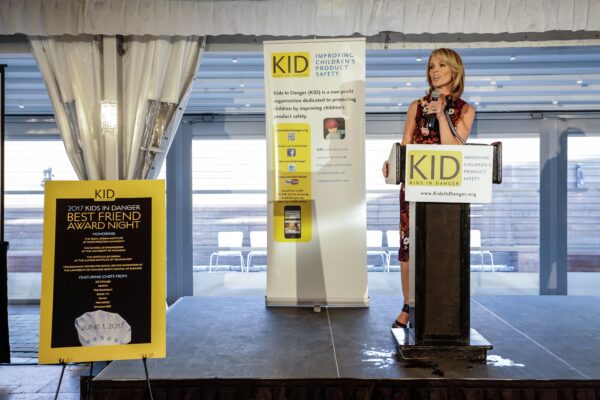 KID 2002 Best Friend honoree, Lisa Parker, has said goodbye to her team at NBC 5 Chicago last night after 27 years of reporting on consumer news. Lisa joined NBC 5 as a consumer investigative reporter in 1996 and for years, her Target 5 consumer-investigative unit tackled a range of topics. She helped start NBC 5 Responds, a unit that helps consumers solve specific issues, recovering millions of dollars.
Over the years, she has been a great supporter of KID and our mission. Her first article, Children's Product Recalls Often Missed was published in 2001 and helped spread the news about dangerous children's product recalls that weren't previously brought to the public's attention. She has been a part of over 40 stories about KID's ongoing work in children's product safety. She wrote about the passage of Danny's Law and the changes it brought to the recall process and safety standards in her 2010 article Danny's Law Changes World of Recalls, and in 2013 she wrote about the rise in injuries connected to children's products in her article Kid Product Recalls Drop, Injuries Rise. Most recently, she reported on our 2022 Recall Report looking at all the children's products recalls from the previous year in her article Report Finds Increase in Child Deaths, Injuries Tied to Recalled Products.
In 2002, KID honored Lisa as our Best Friend for her dedication to exposing dangerous hazards. She has gone on to emcee many subsequent KID Best Friend Award Nights bringing joy and energy to the events through her infectious personality and charm. We thank Lisa for all that she has done and wish her the best in her future endeavors. Watch her goodbye to NBC and viewers here.