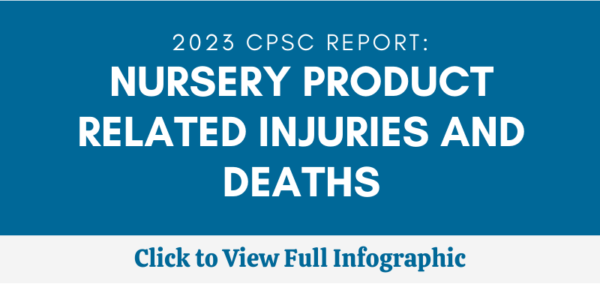 The U.S. Consumer Product Safety Commission (CPSC) released its annual Nursery Products Report on injuries and deaths associated with nursery products amongst children younger than five years old.
On average over a three year period from 2018 to 2020, there were 163 nursery product related deaths per year and cribs/mattresses, playpens/play yards, bassinets/cradles, infant carriers, and inclined infant sleep products were associated with 77% of the fatalities reported.
More than 59,000 nursery product related injuries treated in emergency departments (ED) were reported in 2022, an increase compared to 2020 (44,600) and 2021 (53,000). However, the low number of hospital visits in 2020 and 2021 could have been because of COVID-19. Falls were the leading cause of injury again in 2022, with 72% of total injuries involving the head and face.
Other key data from the report:
Ninety-one percent of injuries reported at EDs were treated and released. Three percent of the injuries required hospitalization, while two percent were treated and transferred to a different hospital. These trends have remained consistent throughout the past three years.
There were increases in ED-treated injuries observed in every product group except three: cribs/mattresses, infant carriers, and playpens/play yards. High chairs were associated with a statistically significant increase in ED-treated injuries.
In 2022, the CPSC estimated that there were 321 injuries per 100,000 children, while in 2021 they estimated 284 injuries, and 234 injuries in 2020.
For more safety information, follow us on Facebook, Twitter, and Instagram. Sign up for our monthly email alerts to stay informed with the latest information regarding child safety products.