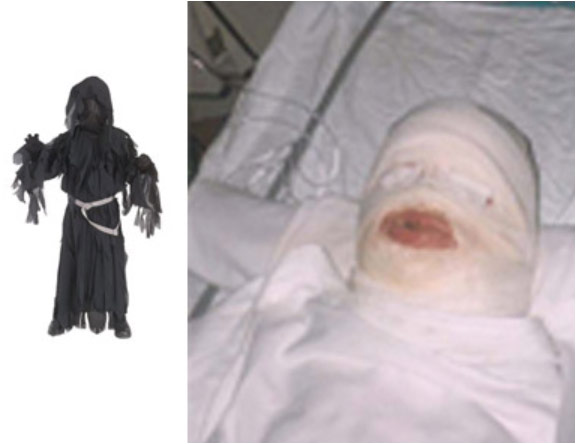 [vc_row][vc_column][vc_single_image image="12594″ img_size="full" alignment="center" title="Halloween Costume"][/vc_column][/vc_row][vc_row][vc_column][vc_column_text]While parents may be aware of the dangers of flame and costumes, they might not know just how highly flammable and dangerous certain costumes can be. Most safety experts recommend close fitting costumes with no flowing parts – a recommendation often ignored by the costume industry.
The photo above, while disturbing, shows the extent of the injuries from a costume sold by Rubie's Costume Company and New Line Cinema. The costume is based on the Ringwraith character from the Lord of the Rings Trilogy.  In addition to the billowing rag-like strips on the arms of the costume that allowed it to catch fire so easily, the costume has a mesh material over the face—which caught fire almost instantaneously with the rest of the costume. The injured child's parents now treat their children's costumes with additional flame retardant to increase the safety.
When purchasing costumes, masks, beards, and wigs, look for flame-resistant fabrics, such as nylon or polyester; or look for the label "Flame Resistant." Flame-resistant fabrics will resist burning and should extinguish quickly. To reduce the risk of contact with candles and other fire sources, avoid costumes made with flimsy materials and outfits with big, baggy sleeves, large capes, or billowing skirts.
[/vc_column_text][/vc_column][/vc_row]
---
Report an Injury or Incident to SaferProducts.gov
Do you have a product injury or incident to report? Use the button below to contact
SaferProducts.gov and help other people avoid similar experiences.
Report an Incident or Injury to SAFERPRODUCTS.GOV