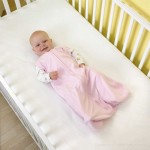 It's 2012. By the end of this year, all cribs in child care and other public accommodations must meet the tough new standards adopted by the CPSC in December 2010.
The new crib standards are the result of unspeakable tragedies and years of work to keep children safe.  Because of faulty designs and shoddy materials, dozens of babies have died in unsafe cribs and over eleven million cribs have been recalled.  While Kids In Danger (KID) and others have been sounding the call for stronger standards and testing for years, it took the convergence of these crib deaths, millions of lead laden toys from China and deadly magnetic toys to focus Congressional attention and lead to the landmark product safety legislation in 2008.
Part of that law, named after Danny Keysar, whose parents founded KID, requires independent testing to strong mandatory standards for all durable infant and toddler products such as cribs, strollers and high chairs.  For cribs, the law goes even further and stopped the sale – new or used – of noncompliant cribs in June 2011 and required child care, hotels and other public accommodations have new compliant cribs by the end of this year.
This email will give you the information you need to make sure your facility – family child care or center based — is in compliance.
What does the crib standard address?  Why is it so important?
Many caregivers have heard that the new standard bans drop-side cribs.  Many of the recalled cribs and deaths involved these cribs with movable sides.  Hardware and designs could not stand up to real world use and led to entrapment deaths and hundreds of failures.  But the new standard addresses many more issues.
Most importantly, cribs now must undergo rigorous testing for durability, mattress support, and slat strength.  The new cribs are designed and tested to hold up to real world use.  The new standard also addresses assembly issues, efforts to avoid loose or missing hardware and more.  CPSC now has the strongest crib standard in the world.
The standard was adopted on December 28, 2010 and on June 28, 2011 it became illegal to make or sell cribs that have not been certified by an independent lab to meet the new standard.  Understanding the huge task of replacing all cribs in public accommodations including childcare, CPSC allowed until December 28, 2012 for compliance.
Who is covered by the requirement to have the newer safer cribs?
The new standard doesn't affect the cribs in consumers' homes now.  But they cannot resell or even donate their old cribs after they are finished using them.  Childcare facilities, hotels and other public accommodations have to be in compliance by December 28, 2012.  Again, when they replace old cribs, they cannot sell or donate them.  They should be destroyed.  (Check out this site for creative recycling of those old cribs.)
How do I comply?
The only way to comply is to have verification that the cribs in your facility meet the new federal standards.  These are 16 CFR 1219 for full-size cribs and 16 CFR 1220 for non-full-size cribs. If you use play yards or mesh portable cribs, they are not subject to this requirement, but should be in good condition and not recalled.
So, to comply:
If your facilities use drop side cribs or cribs from 2009 or earlier, they cannot comply with the new standard.  They must be replaced.
If your crib was bought after June 2011 and you have a certificate of compliance that it meets 16 CFR 1219 or 1220; it meets the new standard and is in compliance.
If you bought new cribs that aren't drop-sides late in 2010 or early 2011 you can contact the manufacturer to see if they have a certificate of compliance.  It is possible that some of these cribs meet the new standard, but you must have the certification and it must be to 16 CFR 1219 or 1220, not earlier CPSC standards or just the ASTM industry standards F1169 or F406.
The manufacturer's name, date of manufacturer, and contact information is on the tracking label on the crib.
How will it be enforced?
CPSC is working on its compliance plan and will seek to coordinate with state licensing agencies.  But all child care facilities, even those not requiring state licensing, are covered by this requirement.  Each state will integrate the new requirements into their state rules.  More will be available this summer and fall on compliance.  CPSC has indicated that a certificate of compliance, listing the standards tested to and including 16 CFR 1291 or 1220, will be required.
What else can I do to make my facility safer and educate our parents?
Cribs are just one product in child care and other products can also present hazards.  Sign up for email alerts from CPSC to keep up with recalls and check your facility often for recalled products.  Follow AAP guidelines for safe sleep – which means no soft bedding, including bumper pads or positioners in a crib.
KID has a short video and workshop materials on a wide range of safety issues that can be shared with staff and parents.  Contact us to get more information on the videos and our workshop, Safe from the Start.  We may be able to come and present to your group or can supply the workshop materials.
Resources
CPSC has a wealth of resources on this issue.  Your first stop should be www.CPSC.gov/cribs.  On this page you will find information on which childcare facilities are covered; special information for childcare providers and general information on crib safety.  If you have a specific question, contact Nikki Fleming at CPSC.  You can always contact KID as well.
KID sends periodic updates to those interested in childcare issues in addition to our monthly KID E-Alert.  You can sign up here for our email lists.
Do you have questions you would like us to answer?  We will compile some for our next update on this new crib requirement.