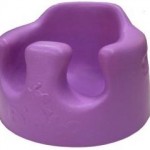 Prior to the passage of the Consumer Product Safety Improvement Act (CPSIA) of 2008, there was no requirement that children's products be tested for safety before they were sold.  While a very few mandatory standards existed at CPSC and there were voluntary industry standards, there was no requirement products be tested to prove they met these standards.  
Now, a portion of the CPSIA, named after Danny Keysar, requires strong mandatory standards for most juvenile or nursery products and other portions require independent third party testing and a mandatory standard for toys.  But required standards still aren't in place for many products. 
KID is this week participating the the ASTM International subcommittee meetings on a host of juvenile products.  Some of these standards — bath seats, cribs, toddler beds — have already been incorporated into the CPSIA mandated federal standards.  Others are in line to become mandatory over the next several years.  
ASTM brings together manufacturers, testing labs, safety consultants, retailers and a very few consumers to develop the voluntary standards.  The process at ASTM can be lengthy and cumbersome, but in some instances, can move more quickly than a mandatory standard.  As the voluntary ASTM standards are updated, the corresponding mandatory federal standards will be updated automatically unless CPSC decides there is a reason not to include the changes.  
An area of concern for KID and others is that some children's products don't fit the 'scope' of these standards and therefore aren't tested to any standards.  But there is really no way for consumers and parents to know which products meet standards and which ones are sold without the testing.  Some of these include products from which we have seen deaths and injuries — infant recliners, infant seats, alternative portable sleeping environments and more.  
Before purchasing or using infant and toddler products, you can check at CPSC or ASTM for the list of products covered by standards. And, until there is a mandatory CPSC standard for a group of products, there is still no requirement for testing to the voluntary standards.  If you have a question, please contact us at KID.  
And it is important to note that while mandatory standards help assure a minimum level of safety, new designs or use patterns might introduce new hazards that the standard doesn't adequately address.  If you have an incident involving a product, please report it to SaferProducts.gov so the standards can be evaluated and possibly changed to incorporate a response to the hazard.