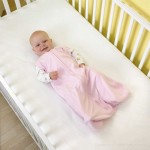 We have been warning about the dangers of crib bumper pads for years. You can read Aiden's story, Preston's story, Dr. Thach's research or some of our many blog posts and web pages on it. The Illinois Attorney General has warned against it and the Chicago Tribune did an amazing article examining the hidden hazards.
The risk of suffocation is simply too great to take with our most vulnerable consumers — young babies.
Finally today, it is now illegal within the City of Chicago, to sell crib bumper pads. The fine can range from $100 to $500. The ban covers internet sales to addresses in the city as well. Consumers who see bumper pads for sale in the city can call 311.
We hope that retailers will use this opportunity to educate parents and caregivers about the reasons behind the ban, the new crib standard, and other safe sleep measures. A crib is the one place babies are left unattended. A bare crib that meets the current safety standards is the best way to insure they will stay safe.
We hope that parents and designers alike will turn their creativity to decorating nurseries in ways that don't involve putting suffocation hazards in the baby's sleep environment! We'd love to see pictures of safe nurseries and hear of your experiences shopping for bedding in Chicago now — are you seeing bumper pads or not? Do you have new ideas for safe decorating? Comment on our Facebook page.