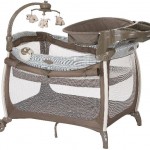 Last Friday, January 18, kicked off the most recent Great Trade- In, an annual event held at Toys"R"Us and Babies"R"Us stores nationwide. The Great Trade- In, which runs until February 10, allows customers to exchange old children's products including cribs, car seats, bassinets, strollers, travel systems, play yards, high chairs, walkers, swings, bouncers, entertainers or toddler beds for a 25% discount on the purchase of any new baby item in any of these product categories, from participating manufacturers. For more information about the event, check out Babiesrus.com/trade-in.
The Great Trade-In is a wonderful way for parents and other caregivers to safely get rid of their old baby products that may not meet current safety standards. Consider participating in the event even if you don't need any new infant products and instead donate the 25% discount to a children's shelter, child care provider or other child service provider.
Maybe you would rather donate your used children's products to family, friends, or others in need. Great idea! Just keep in mind a few guidelines for safely donating your items:
Check the CPSC.gov website to make sure the product wasn't recalled,
Do not donate dangerous products such as: bath seats, baby walkers, or crib bumper pads,
Do not donate cribs manufactured prior to June 28, 2011 as they will NOT meet the latest, tough safety standards. Not sure what to do with that old crib? Click here for some great ideas,
Make sure the product doesn't have any broken or missing pieces and check that all hardware and locking devices are in good, working order and,
If your donation does not meet these guidelines, follow the instructions provided on the CPSC.gov website to make the product it safe or get a refund. If this is not possible, then it is not safe for donation.
For more information on how to donate a products safely, check out our Stop! Is your donation safe? guide. Keep current on product safety recalls by signing up for monthly email alerts from KID and help us spread the word by telling friends and family to do the same!