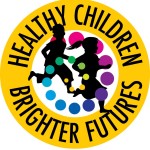 Program Director Laura Nikolovska traveled to Carterville, Illinois to present at the Healthy Children, Brighter Futures Conference. This annual conference on children's health attracted many central and southern Illinois based caregivers and features experts on over 25 topics concerning children's health issues.  KID presented our safety workshop, Creating safe environments for children, to 25 professional child care providers on Saturday. If you know another group of caregivers that could benefit from hearing KID's safety message, please contact us.
Former KID intern Liliya Shmuylovskaya and KID Executive Director Nancy Cowles were co-authors on an article in Clinical Pediatrics – our first peer-reviewed published article. The article, entitled Rare-Earth Magnet Ingestion-Related Injuries Among Children, 2000-2012 was written by a team led by Dr. Gary Smith, KID's Best Friend from 2010.  To access the online article, click here.
KID will be working to promote the important message of the Health Resources and Services Administration's (HRSA) Poison Help campaign in the next few weeks via social media. The purpose of the campaign is to ensure that parents and caregivers know about our nation's poison centers and the toll-free Poison Help line, 1-800-222-1222. This short video highlights the Poison Help line contact information and encourages parents and caregivers to program the toll-free number into their phones in case of an emergency. Follow us on Facebook and Twitter for future tips on staying safe from poison ingestion.
Lastly, KID Executive Director Nancy Cowles will be meeting to discuss future student projects with student design teams via Skype from Harvey Mud College and Northwestern University. The projects will address the safety concerns of cribs and magnet toys.
There are definitely more events and activities coming up for KID in the next few weeks, namely the Naperville Marathon on Sunday November 10 that will feature 26 runners racing to raise much needed funds for KID. so far, they have raised over $12,000 of KID's goal of $19,500. Learn more about the race and how you can help contribute.