There are countless advertisements and promotions telling you all the things you should buy this season, but little attention is given to informing parents and caregivers about the dangerous products they should avoid purchasing over the holidays. KID has listed a few of these products to avoid below.  To see the potential safety hazards of all products, visit www.kidsindanger.org/product-hazards/.
 Hazard: Fall. Culprit: Walkers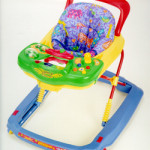 Instead of purchasing a walker for a toddler, consider purchasing a stationary activity center (that hasn't been recalled).  Walkers are often narrow enough to fit through doorways, allowing a child to be out of their parent's reach and potentially fall down the stairs. Doctors also warn of development issues that may result from walker use. To learn more about the dangers of walkers, click here.
 Hazard: Choking. Culprit: Small toys or toys with small parts
Young children put everything in their mouths and for that reason toys for children under three can't have any small parts.  KID advises parents to use the toilet paper tube test when purchasing toys for their children. If it fits inside the tube, it can pose a choking hazard to the child. Follow age guidelines on products to avoid toys that aren't appropriate developmentally for your child.  Just for reference, the danger isn't that a child can swallow it, but that they can't swallow it and it gets stuck/chokes them.  Ingestion is the danger from swallowing something.
 Hazard: Ingestion. Culprit: Magnet toys

High powered, rare earth magnet sets are products that are designed for adults, but hold a lot of appeal for children of all ages. These are not your typical refrigerator magnets. When two or more magnets are swallowed, they can attract one another internally, resulting in serious injuries such as small holes in the stomach and intestines, intestinal blockage, blood poisoning, and even death. Most manufacturers have stopped selling this dangerous product, but KID recommends against purchasing any you might come across. Read more about the dangers of these products here.
Hazards: Multiple. Culprit: Used products
In an attempt to be economical over the holidays, many parents and caregivers purchase used items for their children. While many secondhand products can be safe for use, some might have been recalled and some may not meet the newest safety standards. Access KidsInDanger.org from any mobile device to check those products for recalls on the go.
To keep up on child product safety news and information, join the KID email alert list. Every month we will send you a list of recently recalled products and other unsafe products to avoid. Follow KID on Facebook and Twitter for daily updates on recalled products and other safety news. If you are out shopping, take KID with you!