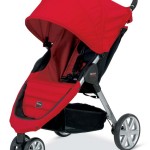 Since the adoption of Danny's Law in 2008, CPSC has developed and adopted 12 mandatory standards for infant and toddler durable products.  The most recent is the Carriage and Stroller standard.  The commission voted unanimously on Tuesday to adopt this standard. 
As required, this standard starts with the ASTM International voluntary standard.  In this instance, CPSC added a requirement to address head entrapment under adjustable grab bars.   In addition, the standard will address structural integrity and stability along with hinges (stroller hinges have led to amputated fingers among other injuries), wheels, brakes, locking mechanisms and restraint issues.
The good news: As with the other standards adopted under Section 104 of the Consumer Product Safety Improvement Act, this is a giant step forward in safety.  Rather than relying on voluntary compliance, consumers can now have assurance that strollers manufactured after the effective date have been tested to rigorous standards.
The bad news? CPSC voted to give manufacturers 18 months to start manufacturing strollers that meet the new standard.  This delay means that not until sometime after September 2015 will consumers be sure the stroller they buy meets the tough new standard.  In the meantime, make sure any stroller purchased meets the ASTM F15-833-13b voluntary standard and avoid strollers with adjustable grab bars. Learn more about possible hazards with strollers here.