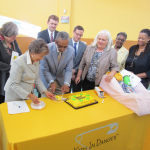 Happy Birthday SaferProducts.gov. The website, which was launched 4 years ago today, is the host to more than 23,000 live product incident reports.  Read more about the site, and why it matters to you and your family, here. 
Everyone has their favorite review website. It's your resource to make informed decisions about where to go, what to watch, and what to do. KID would like to add to your go-to websites a site that does more than just tell you which movie is worth seeing. This website, SaferProducts.gov, provides safety reports on children's products, allowing you to report an unsafe product, and contains information that can help you make a decision that will help protect your child from dangerous products.
What SaferProducts.gov is:
SaferProducts.gov is a user-friendly, government-run, consumer incident database. This is not a website for reviewing how much you like or dislike a product. This is solely for reporting potential safety hazards, like a high chair strap breaking or a stroller collapsing. Parents and caregivers can report online, by phone, or by mail, a safety flaw that they have found in their product. These reports must be electronically signed by the reporter, stating that the review is accurate, and are reviewed before being published on the website. By making a report, parents and caregivers can help warn others about potential risks of certain products. Anyone can also search their own products to find all the reports about it. A product that has not yet been recalled still might contain a safety flaw, so this website provides a space to research potential safety flaws in a product and to help parents and caregivers avoid buying anything that has too many bad reports.
What SaferProducts.gov does:
SaferProducts.gov fills in a major gap in the recall process. Prior to its creation in 2008, products fell into two categories; those that were recalled and those that were not. The product was considered safe until it was recalled for being unsafe. But recalling a product is a process and can take time.  SaferProducts.gov covers the middle ground between assuming the product is safe and learning that the product was recalled. As a part of the CPSC, this website is also vital to help their staff and others see emerging hazards and take action.
Why SaferProducts.gov matters to you:
SaferProducts.gov puts more power in the hands of the consumer. You can't see into the future, so it's hard to guess which toys might be recalled later for product hazards. No parent or caregiver wants to buy a recalled product, but there can be months or even years between when a product is first sold and when a recall occurs. With this website, you can now see current, always-updating safety information from real consumers, and you can use this information to avoid products that might not have been recalled yet, but still have presented safety hazards to other users. And unlike other online review website, these reports are verified for accuracy before being published, making it a trustworthy source of safety information.
If you wouldn't leave the house on a Saturday night without checking restaurant or movie reviews, why would you buy a toy, stroller, car seat, or other children's product without checking a safety review? SaferProducts.gov gives parents and caregivers the power to check their products now to help keep their children safe.
Here's a handy flyer about the importance of SaferProducts.gov.
(photo: KID celebrates the 5 year anniversary of the passage of the CPSIA)