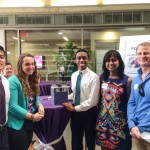 KID has been working with engineering students at Northwestern University for almost a decade.  Our TEST program is focused on integrating design safety into undergraduate engineering education.  Through the Segal Design Institute's freshman program, Design Thinking and Communication, students are presented with a design challenge and teams of four develop prototypes to address the issue and present their findings at a Design Expo. 
This term, KID worked with two sections – each with four teams.  One set of teams looked at the hazard of tip-overs – furniture, televisions, or appliances falling on young children.  After learning more about the issue, talking to users, and sketching possible designs, the groups focused on making furniture for a child's room that would be tip-resistant.  The four teams took existing furniture and designed anti-tip solutions.  These included a trapezoid shaped dresser with a wider base, one with guards that pull out with the top drawer, a dresser with a wider base incorporating a bench to change the center of gravity and a lazy Susan type shelving unit to replace a dresser.  All were stable without the need for wall attachments. 
The second group were given the task to protect children from the dangers posed by individual laundry packets.  Over 17,000 calls have come into Poison Centers about children being exposed and facing injury from laundry packets' highly concentrated content.  There has been at least one death.  The teams came up with design solutions in three areas – making the container holding the packets child resistant, lessening children's access to individual packets when out of the container and warning labels.  Solutions ranged from blister pack type coverings, balls or mesh that enclosed the packets and could be recycled, innovative child resistant closure on containers and highly visible warnings – such as on the seal of the packaging so parents had to handle it to get to the contents. The resulting prototypes and ideas will be shared with those working on standards and new designs.  
Joining KID at the expo were Shane's Foundation founder Lisa Siefert and US Consumer Product Safety Commissioner Joe Mohorovic.  Lisa's son Shane was killed by his dresser exactly four years prior to this expo. Her work has raised awareness of the issue.   Says Lisa of the project: "This was a fabulous project. The four very different designs were innovative. These teams really went outside conventional thinking. I hope to see designs like these picked up by manufacturers. It would be wonderful for families to take home furniture that would not require an anti-tip device to be installed and just be inherently safe." Commissioner Mohorovic has cited tip-overs as one of his core issues at the commission, in part due to the latent nature of the hazard—many families have no idea of the dangers posed by falling furniture and televisions.
See more pictures of these designs at our Flickr page.  KID's TEST program is one way we fulfill our mission to promote the development of safer products.  We are always looking for both schools and partners to work with as we develop new projects and look for other ways to incorporate design safety into engineering education.