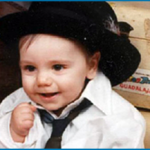 One fateful day in April, Trevor fell asleep in his Lil Napper swing at his child care home and was tragically strangled. He became entangled in the shoulder harness straps that buckled between the legs. The swing had been recalled 5 years earlier but the news had unfortunately not reached the child care provider. (Read his full story here) Make sure to stay updated on recalls by going to www.cpsc.gov, as companies do not always use methods to reach all consumers about recalls.
Here is some useful information to keep in mind about baby swings:
– An upright swing is not a safe spot for your infant to sleep.
– Remember that newborns and young infants lack the muscle strength to keep their heads up. To prevent them from slumping over and blocking breathing, only use the swing in a reclined position when you put them into a swing.
– To prevent falls, stop using a traditional swing when your child attempts to climb out. Stop using a cradle swing when your baby can roll over or push up on their hands and knees.
– Never leave your baby unattended in a swing.
Use the hashtag #FamilyVoicesFriday to share Trevor's story as well as what to keep in mind about infant swings. Stay tuned for our final #FamilyVoicesFriday story next week.