It's been a slow month for children's product recalls, but there have been a few major food recalls in March that we want to share with parents and caregivers so they can keep the children in their care safe. Like product recalls, food recalls can be very hard to keep up because there are so many and once an unsafe product has hit store shelves, it's very hard to get them back. Please note that we are only sharing recent baby food or formula recalls; there are many more recalls out there that might affect children. For a full list of food recalls, please visit: FoodSafety.gov. If you think you have an illness as a result of unsafe food, follow these steps to safety.
Recent food recalls: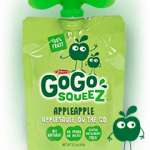 Non Organic Gogo Squeez Applesauce Pouches – On March 4, the FDA recalled specific packages of GoGo squeeZ® applesauce pouches due to potential adulteration from food product residue. So far, no illnesses have been reported to date in connection with this issue. To see the recall alert and if you product was affected, click here. For more information and for instructions on what to do if you have a recalled pouch, read Gogo Squeez's announcement.
Gerber Baby food pouches: This recall was announced on March 24 and involves two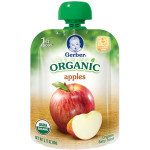 types of Organic 2nd Foods Pouches. The FDA recalled the pouches because of a packaging defect that can cause the product to spoil during transport and handling. The President of Gerber stated that some pouches might be bloated or the product inside may have an off-taste or odor. To see a full list of the specific pouches affected, please visit the FDA recall website. If you have any of the affected products, contact the Gerber Parents Resource Center at 1-800-706-0556 to receive a replacement coupon.
Resources for parents and caregivers:
FoodSafety.gov: Just like KID, FoodSafety.gov has an email alert where consumers can sign up to get food recalls delivered right to their inbox.
FDA: Also like KID, the FDA is active online. Check out their social media channels below for information:
Twitter: @US_FDA, @FDArecalls
Facebook: FDA
View recent recalled product photos on FDA's Flickr Photo stream
STOP Foodborne Illness: In addition, our Friends at STOP Foodborne Illness provide great resources for parents and caregivers and advocate for food safety on a national level. Join them and other food safety advocates at the National Food Policy Conference in Washington D.C on April 6-7.