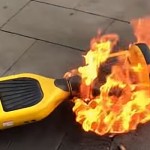 It's summer, and that means plenty of time for the kids to enjoy the great weather. Don't let dangerous hoverboards get in the way of their fun!
Following about 100 incident reports, Hoverboards have been officially recalled by 10 manufacturers and retailers. These incidents have ranged from sparks to explosions; the batteries inside the hoverboards have been known to overheat and catch fire, resulting in burns or damage to personal property. This is the largest recall of hoverboards (over 500,000 units recalled) since their release last year, despite continued complaints, incident reports and safety advisories from the CPSC.
If your hoverboard model is one being recalled, the CPSC advises that you discontinue use of the hoverboard immediately and contact the recalling company, in order to receive "a full refund, a free repair or a free replacement depending on the model." While most brands are offering a refund, some are offering replacement models, which, unlike the recalled hoverboards, have been tested by Underwriters Laboratories and are safety-certified. The chairman of the CPSC, Elliot Kaye, advises that even if your hoverboard model is not one recalled, if it is not certified by UL, you should stop use immediately and demand a refund. To read the full chairman's statement, click here.
To see if your hoverboard qualifies for a refund, repair or replacement, click here.