After Pacific Cycle recalled a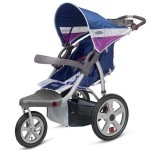 bout 217,600 Swivel Wheel Jogging Strollers earlier this month due to crash and fall hazards, we decided to dedicate a blog post to the topic of jogging stroller safety.
According to the Consumer Product Safety Commission, approximately 11,200 children under five years of age sustained stroller-related injuries that caused them to visit the emergency room in 2014. Falls remain one of the single largest sources of injury.
To reduce the chance of falls, we recommend:
Buckle your child in the stroller, every time you use it – really – every time.
Ensure that straps are adjusted to child's shoulders and lap sizes, fitting snugly yet conformably
Never leave a child unattended in a stroller – even when sleeping. Move to a safe sleep environment if you can't stay by the stroller.
In the last decade, millions of strollers have been recalled due to broken locking mechanisms, strangulation/entrapment risks, amputation/laceration risks, faulty brakes, insecure seatbelts, and risk of seat detachment.
As of September 10, 2015, the CPSC has mandated stricter safety standards for newly manufactured strollers, requiring the strollers to be tested and labeled to limit hazards. While this has helped address various issues with strollers, from problems of broken and detached wheels to hinge issues, there are additional safety considerations to keep in mind for a jogging stroller.
Additional points for a jogging stroller:
Jogging strollers usually are not designed to recline—this means jogging strollers are unsafe for newborns, and the Mayo Clinic recommends they not be used until a child is older than 6 months of age (companies such as BOB Gear recommend their jogging strollers for kids over 8 months, so check the label). Newborns do not have the proper muscles to sit up or hold up their heads, making their position in jogging stroller particularly dangerous. For newborns, stick with strollers with a recline feature.
Check your stroller's weight limits to know when your child should no longer ride in it.
Look for jogging strollers with a wrist strap connected to the handlebar and wear the wrist strap at all times while operating the stroller. They help prevent the stroller from getting away from you. (This is especially helpful on inclines and slopes!)
Look for a jogging stroller with lockable back wheels, and always lock the wheel's parking brake when the stroller is stopped. Even flat-appearing surfaces can be dangerous.
Inspect stroller tires before each run and make sure they have an appropriate amount of air in them.
If your jogging stroller has a swivel front wheel, always lock it during any time of exercise (including fast walking).
Check that the stroller was manufactured after 10, 2015 so that it complies with new safety regulations.
If you believe you have a defective or unsafe jogging stroller or other children's product, fill out a report on the issue at SaferProducts.gov. For more on the recall of Pacific Cycle strollers, visit the CPSC website: http://www.cpsc.gov/en/recalls/2016/pacific-cycle-recalls-swivel-wheel-jogging-strollers/. Find more on stroller safety here on KID's website: https://kidsindanger.org/product-hazards/strollers