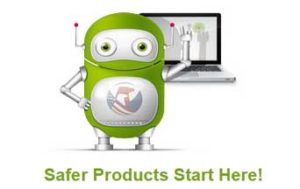 At KID, we see firsthand how SaferProducts.gov meets a major need in the product safety.
Today, we're celebrating that the site, launched by the CPSC on March 11, 2011, has now been active for 6 years! SaferProducts.gov is the government's product safety database. In December of 2016, KID joined the Consumer Federation of America, Consumers Union, Public Citizen, and U.S. Public Interest Research Group in releasing an analysis of SaferProducts.gov that reviews the effectiveness of the database in its first 5 years. KID and others concluded that SaferProducts.gov is a highly effective resource, especially when consumers actively engage with the site by posting and searching frequently.
Unfortunately, recalls are sometimes not issued until multiple injuries, and sometimes deaths, have occurred. As a result, children may still be in harm's way during the recall process. Consumers can use SaferProducts.gov to report incidents or issues they have with potentially dangerous children's products. Other consumers can then use the site's user-friendly interface to stay up-to-date on important safety information, even before a product has been recalled. You can be sure you are receiving reliable information as the reports are verified for accuracy. These incident reports can help parents and caregivers choose safer products for their children, and they also inform the recall process.
These days, we check reviews for almost every activity, from visiting a restaurant to going to a movie. Why not do the same with the children's products in our homes? For example, say you were recently gifted a pink Little Tikes toddler swing for your child. If you checked on SaferProducts.gov, you would not only discover that this product has been recalled, but you could also read incident reports from other consumers who experienced issues and injuries with the swing – including two children with broken arms.
SaferProducts.gov provides parents and caregivers with valuable information to help keep the children in their lives safe. We recommend taking full advantage of this resource – research, report, and share!