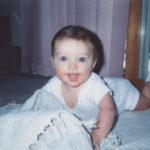 On April 25, 1997, Jared was killed when the Evenflo Happy Camper portable crib he was in collapsed. Just 8 months old, Jared was a happy and spirited baby who wowed everyone he met with his beautiful blue eyes.
The portable crib that killed Jared, which featured rotating center hinges on the top rails, should have been recalled much earlier. Jared was the 11th baby killed in this type of crib when he became trapped in the V-shape of the collapsed rail and suffocated to death. Before Jared's death, a voluntary safety standard for products with rotating top-rail hinges was being finalized, but Evenflo continued to sell their products until it was recalled after Jared's death. Since then, at least eight more children, including KID's founders' son Danny, have died in collapsed portable cribs or play yards with similar designs.
Federal safety standards for play yards and portable cribs went into place on February 28, 2013 – about 16 years after Jared's death. These new standards ensure that the play yard is stable, that the latch and lock mechanisms prevent it from folding while in use, and that the sides are high enough to keep children from climbing out.
Though play yards manufactured and sold today meet stronger safety standards, there are still a few precautions parents and caregivers can take to keep children safe. Follow assembly instructions carefully, and ensure that there are no missing or broken pieces. Consumers can also register their products with the manufacturers – this is the only way manufacturers are required to inform you in the event of a recall. You can fill out the product registration card by hand, or complete the form online. If you ever have a problem with a product, report it at SaferProducts.gov.
Jared's family is still mourning his tragic loss, and we hope to spread awareness that will keep more children safe in their portable cribs.