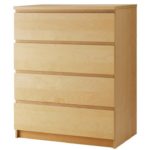 Today marks one year since IKEA recalled 29 million dressers due to tip-over hazards – one of the largest furniture recalls in U.S. history. Despite the publicity that this recall received, the vast majority of those recalled dressers remain unaccounted for and continue to pose a risk to families and communities. It is not too late to get your refund from IKEA. To mark this anniversary we urge consumers with MALM or other dressers to contact IKEA for their refund. IKEA will even come pick up the dresser from your home to dispose of it.
IKEA also offers the option to receive a free anchoring kit. However, we recommend consumers return their dressers and receive the refund. Although anchoring large furniture is an essential part of the childproofing process, new, better-designed dressers will avoid any chance of future fatalities from these faulty dressers.
It is devastating that seven children lost their lives before IKEA issued a full recall of the MALM dressers, and even more upsetting that so little has been done by the company to ensure recall success. The most recent numbers reported show that IKEA has issued 175,000 refunds and 268,000 strap kits for anchoring. Even when adding these numbers to the repair kits provided before the recall in 2015, fewer than 1 million of the 29 million units have been repaired or returned.
At KID, we strive to improve recall effectiveness and manufacturer accountability. We believe IKEA should be taking a much more active role in recall enforcement through targeted communication to likely consumers. Consumers should not have to depend on news stations, nonprofit organizations like KID, or social media to learn about a recall and how to receive a refund. IKEA's lack of initiative and transparency leaves millions of children and families at risk.
On June 28, KID, the Consumer Federation of America, and Shane's Foundation wrote to CPSC Chairman Buerkle urging IKEA and the CPSC to take stronger action on hazardous tipping IKEA furniture. Their statement reads, in part: "We urge IKEA to put more resources and effort into retrieving the additional 28 million dressers involved in the recall. We ask the CPSC to review the corrective action plan to assure compliance, amend the CAP if inadequate, and work with IKEA to reach more consumers. These unsecured dressers are ticking time bombs in our children's bedrooms and homes."
We have seen how innocent children suffered the consequences of IKEA's inability to fully address a problem. Ted died on February 14th, 2016, just before his second birthday from a MALM dresser tip-over. His mother was unaware of the IKEA dresser repair kit initiative launched in 2015 and of the dangers this dresser presented. Ted's family bravely shared their story to advocate for a full recall of IKEA's dangerous product. Their courage to go public, along with other families, politicians, and product safety organizations, led IKEA to recalling 29 million units one year ago today. Read more about Ted's story here.
For more information on this hazard, visit our Product Hazard page on furniture tip-overs. Click here for more information about the IKEA recall, and how to receive a refund. Read our full statement to the CPSC here. Stay up-to-date on this hazard and other safety news by connecting with KID – Follow us on Facebook and Twitter and sign up for our newsletter and email alert on our website.