As usual, KID staff, interns, and volunteers have been hard at work. Here's a look at what we've been up to over the past few weeks: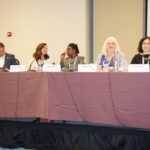 KID's Executive Director, Nancy Cowles, attended the 2018 ICPHSO symposium. KID has been attending the International Consumer Product Health and Safety Organization's (ICPHSO) symposium since 2001 when our co-founder Linda Ginzel spoke on a panel of parents as advocates.  This year KID presented on a panel on using marketing techniques to improve recall effectiveness and also led a roundtable discussion on "Disrupting the status quo to move safety forward."  The roundtable presenters spoke of new technology, applying new ideas to long-standing safety problems, and led the group in thinking about how to apply this to their company and industry. 
Many product safety stakeholders attend ICPHSO, including leadership and staff from the US Consumer Product Safety Commission, other regulators, manufacturers and retailers, and testing labs and other service providers in the field. These stakeholders are joined by consumer representatives, including KID, Consumer Federation of America and Consumers Union.  Attending these programs allows KID to fulfill our mission to save lives by enhancing transparency and accountability through safer product development, better education and stronger advocacy for children. Learn more about ICPHSO and the symposium here.
KID looks ahead to the 2018 Best Friend Award Night marking our 20th anniversary. Our interns and volunteers have been hard at work reaching out to local business and restaurants for raffle and auction donations, as well as promoting the event on social media and in Chicago-area publications. This week we are sending out hundreds of invitations to our guests. Want to help with this great event? Let us know! You can RSVP here.
KID's Program Director connected with partners at local conferences and meetings. On February 22 and 23, Carson presented KID's workshop, Creating Safe Environments for Children, at the 2018 Illinois Head Start Association Conference. On February 27, Carson joined representatives from many community organizations for a meeting with Easterseals to get updates on their Head Start program and provide feedback. This weekend, Carson will be traveling to Dixon, IL to present KID's workshop at the Child Care University Conference.
What's next? KID staff and interns have been working hard to prepare for the release of our Annual Recall Report and Spring Newsletter. In addition, Nancy will be traveling to DC next week for ASTM meetings on laundry packets and furniture tip-overs. Stay tuned for updates on the KID blog and on social media.