Ten years ago, at just 13-months-old, Abigail was injured when a joint in her crib rails broke apart, pinching into Abigail's hand. Her family's persistence helped lead to the strong mandatory standard for cribs as well as the SaferProducts.gov database.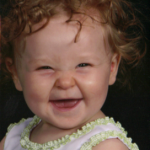 Abigail's dad writes:
"When I think of what could have happened to my daughter or another child, it forces me to continue to advocate for a stronger children's product safety system. That responsibility should not have to lie in a consumer's hand. Whoever denies change in this system is just killing our children.
Since my Abigail's horrific situation, I have been on a one-man crusade to do something about it. While the recall is a good first step, my heart dropped when I saw there were 85 prior complaints of loosening hardware, despite the company's assurances that mine was an isolated incident."
Abigail's father called the crib's manufacturer, Bassettbaby, the day she was injured. It was days later when he finally was able to speak with a VP from Bassett and was informed  that this was not an isolated problem and that Bassett would not report the incident to anyone, including the CPSC. A month later, Bassett's lawyer contacted Abigail's father to tell him that the crib would be recalled by the CPSC. Even then, the recall was not announced for 48 days.
Abigail's family played a strong role in the persistent advocacy that led to the Consumer Product Safety Improvement Act, which required strong standards for children's products and that all durable children's products come with product registration cards so that the owners can learn of recalls directly from the manufacturer.
Today, thanks to CPSIA and SaferProducts.gov, companies are kept accountable for incidents that are reported to them by caregivers. Reporting incidents can lead to quicker recalled products, saving lives.
You can read more about Abigail's story here. Don't forget to check your products at CPSC.gov/recalls and report incidents with your products on Saferproducts.gov. For more important safety information, subscribe to our email alerts and follow us on Facebook and Twitter.