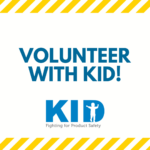 This week, we are celebrating National Volunteer Week. KID is a small nonprofit, so our volunteers are vital to the success and strength of our efforts. We appreciate all of the volunteers who have helped us out at KID, past and present. Here's a snippet from one of our volunteer interns, Brianna, on her experience volunteering with KID:
Volunteering at KID has easily become one of the best parts of my week, and I always look forward to the days when I am volunteering. I started volunteering with KID in September 2019, and I have learned so much over the past eight months. Prior to volunteering with KID, I really had no clue about the safety hazards that children's products can pose apart from the obvious one, choking. It has been eye opening to learn about the dangers of infant inclined sleepers and furniture tip-overs. Now when I see children's products in my daily life, I look at them through a more critical lens, and product safety is always in the back of my mind.
My favorite part about volunteering with KID is the variety. Because KID is such a small organization, I get to do real, meaningful work—not the stereotypical afternoon coffee run that an intern at a larger company might have to do. I've been able to try my hand at a variety of different tasks and projects like creating social media posts, writing blogs, helping to organize fundraising campaigns, doing legislative research, and composing research reports. I feel that the work I do with KID truly makes a difference in the lives of children.
This National Volunteer Week, I would encourage anyone who is interested in volunteering to reach out to KID or any organization that strikes a chord with them to see where they might need help. Now more than ever, organizations like KID are relying on the continued support of their volunteers, because our work does not stop even the face of a global pandemic. Virtual volunteering is a great way to stay connected to your community in this time of social distancing, and it allows organizations like KID to continue our life-saving work.
If you are interested in volunteering with KID, visit our volunteer webpage to see how you can get involved. We have plenty of opportunities for virtual volunteering that you can do right from your own home.