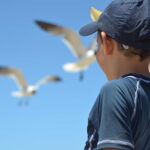 Memorial Day marks the unofficial start of summer. With the sun shining, kids will be excited to have some fun outside, even if it's just in the backyard for now. Here are a few safety tips for the warmer-weather months:
Riding
If your child is on any set of wheels (bike, scooter, skateboard, etc.) they should be wearing a helmet. Helmets should be properly fitted and have a chin strap and buckle that will stay fastened during impact. Never buy helmets second-hand, as they could have been involved in a prior accident. If your helmet is cracked or has been in an accident, it's time to buy a new one.
Pools
Drowning is the number one cause of injury deaths in children between one and four.  Children should always have adult supervision when swimming or playing near water. One helpful method is to designate one adult as the "water watcher" to keep an eye on any children in the pool. Swimming lessons are also a good idea once social distancing guidelines allow. The AAP supports swim lessons for most children age 4 and older, and for children 1-4 years old if they are ready.
To keep children safe when it's not swim time, pools should be surrounded on all four sides by a fence at least 4 feet high with a self-latching gate. Remove any toys so children are not tempted to venture towards the pool. Door alarms, window guards, pool covers, and pool alarms can be used as an added measure of safety. The CPSC has a website, poolsafely.gov, where you can find additional info on swim safety.
Trampolines
The sale of outdoor toys such as trampolines are up 20% from last year due to COVID-19 and shelter-at-home orders. Parents should set ground rules for trampoline use, including only one jumper at a time (to prevent collisions) and no somersaults/flips, because landing on the head or neck can cause paralysis. The frame, hooks, and springs should be covered by shock absorbing pads and if the trampoline is above ground level, use a net enclosure to prevent falls.
Playground
Even if the public playground is off-limits for now, many families have home playgrounds. The surface below your playground should be soft in case of a fall. Check for any sharp edges, rust, broken swings, etc. When the weather heats up, equipment like slides can also get extremely hot, so parents should touch playground surfaces to check the temperature before allowing children to play. When children are playing, their clothing should not have any drawstrings and they should not wear helmets, both of which could get caught and pose a strangulation hazard.
Rainy Days
Rainy days are perfect for staying inside and watching a movie. TVs, TV stands, and any other furniture should be properly anchored to prevent tip-over injuries. More information about anchoring can be found at AnchorIt.gov.
Check out this CPSC article on avoiding outdoor injuries during COVID-19. Printable lists are available for your family to use along with helpful tips to keep your family safe while staying home. With the proper planning and preparedness, children can enjoy their summer at home without the risk of serious injury.