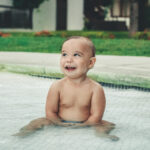 With one month left of summer, you and your little ones may be having some fun in the water. Days spent at your swimming pool, or simply in an inflatable kiddie pool in your backyard can be the perfect respite from the summer heat.
According to the Centers for Disease Control and Prevention (CDC), drowning is the number one cause of unintentional death for children ages one to four. The American Red Cross found that 69% of young children that drowned or were found in swimming pools were not expected to be anywhere near the pool. One of these children, Levi Hughes, slipped away from his family and drowned in their outdoor pool on June 10, 2018. KID honored Levi's parents Nicole and Jonathan Hughes along with Morgan and Bode Miller for their work to prevent drowning at our Best Friend Award Night in 2019.
The Illinois Department of Children and Family Services reported that in 2019, 22 children in Illinois accidentally drowned: 10 in pools; five in bathtubs; three in ponds; three in lakes; and one in a bucket.
Here are some quick tips from the Illinois Department of Children and Family Services (DCFS) to keep your children safe this summer:
Install a four-sided fence with a self-latching gate around all pools and spas.
Secure the toilet lid to prevent a toddler from tipping headfirst into the toilet.
Empty and store all buckets out of children's reach when not in use.
When it comes to portable or inflatable pools, be vigilant as a child can drown in as little as one inch of water. Empty the pool right after use and store it upside-down.
Do not leave a young child alone in a bathtub or in the bathroom, and don't rely on a bathtub seat for safety.
Learn CPR! The American Red Cross offers online CPR training classes.
Check out more drowning prevention tips and water safety information on our site here.